Wish I'd had a moose tag...
by Curt
(Athabasca, AB)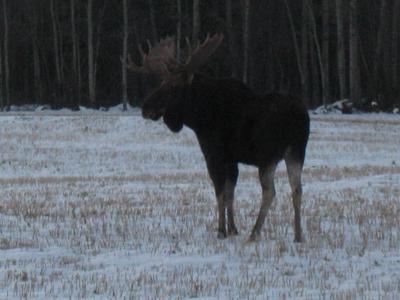 No Moose Tag! So I get to watch.
I didn't have a Bull Moose tag this season so of course I run into a beautiful specimen. I saw this fellow and his lady friend feeding about 100 yards off the road. I spent easily 20 min's taking pics, a video and just watching them.

As much as I love hunting, and eating moose. I also love it when I get an opportunity to just watch them doing their thing like I did this day.
Join in and write your own page! It's easy to do. How? Simply click here to return to Moose Pictures.
Want to learn how to hunt moose? Or are you wanting to increase your moose hunting skills?

Look no further!

Our moose hunting tips book is written with not just the novice in mind, there are tips in the book that even the most seasoned moose hunter will find of value.
The book includes 57 chapters, with more than 150 pages of information, jam packed with tips, techniques and discussions - The Ultimate Guide to Moose Hunting!