Yukon Style Baked Moose Meat Pie
by Robbie
(Yukon Territories)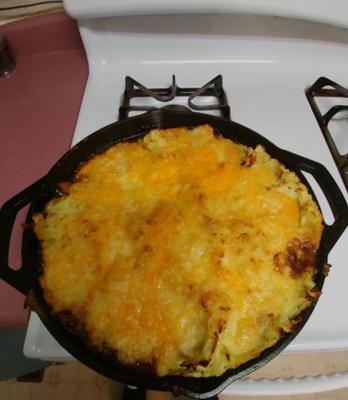 Yukon Style Baked Moose Meat Pie
Ingredients to make Yukon Style Baked Moose Meat Pie
Mushrooms
Onion
Carrots
Celery
Mixed Vegetables
Potatoes
Moose Steak
Shredded Cheddar Cheese
Milk
Butter
Spices to suit
(Flour if needed)
Method
Sauté mushrooms & onion
Boiled carrot, celery and mix vegetables
Cubed moose steak
Mashed potatoes. I used white potatoes with skin on
Diced onion, sliced mushrooms
Sautéed a few minutes
Cubed moose steak cooked in cast iron fry pan
Make sure you use any spices you like
Added dill weed, milk and butter to potatoes and mashed.
Added some beef broth to the meat in fry pan then some bistro to...make a stiff gravy, not watery. You can add flour to thicken the broth.
Added all the vegetables mixed with meat
Put Mashed potatoes on top to cover well
Add lots of cheese to top of potatoes, I used cheddar and Havarti. (Ran out of cheddar so added Havarti... Yummy!)
Into 400 degree pre-heated oven for 30 minutes
Use whatever vegetables you like and gauge the amounts to fit your pan as you like.