Vancouver Hiking Trails
Diez Vistas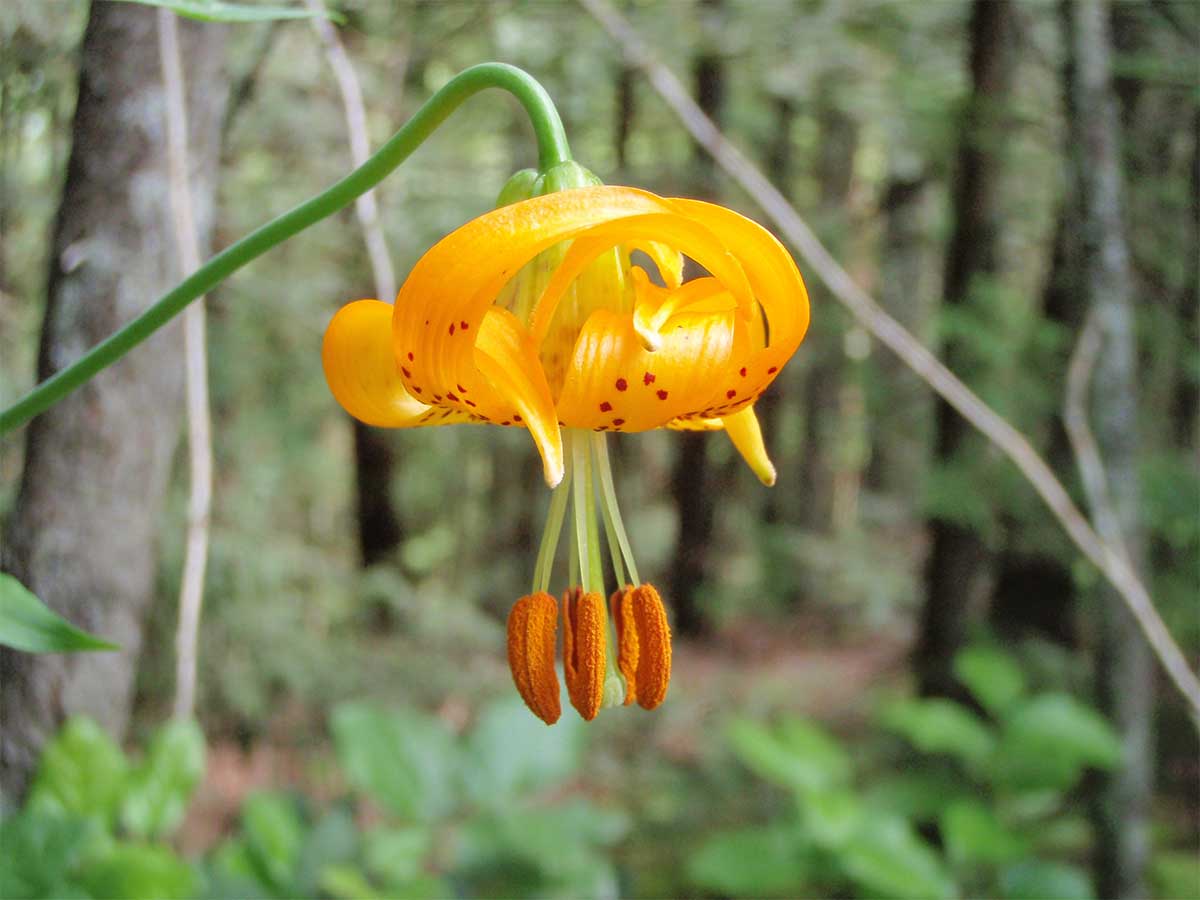 Choosing one of the Vancouver hiking trails to head out on was the goal of the day. My wife had been quite sick this spring so was not feeling up to a strenuous hike. We wanted to find a hike that both my wife and I could accomplish and still feel like we got some exercise.
Wild Tiger Lily, there were lots of these flowers along the trail, along with many other species.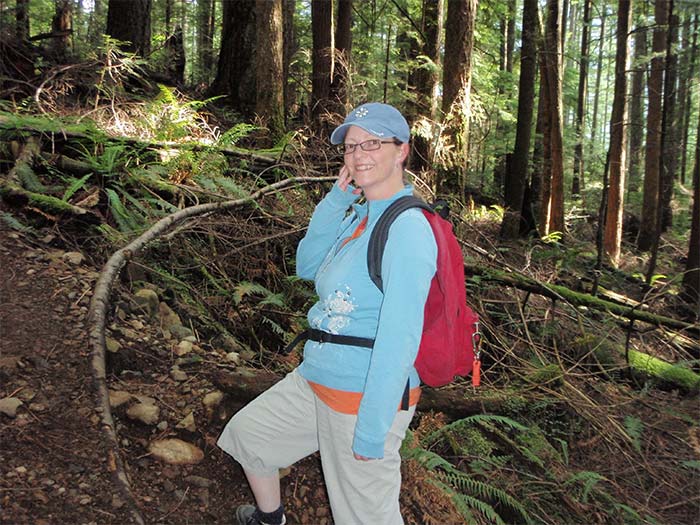 Kelly, still fresh, on the ascent.
After scouring through the Vancouver hiking trails in the book I had my heart set on hiking the Three Brothers trail in Manning Park. My wife however had other ideas... she decided the Diez Vistas trail was more to her liking.
On a sunny Sunday in July we headed out to Buntzen Lake park where the trail begins and ends. According to the book the Diez Vistas trail is 13 km and should take about 5.5 hours. I did set my GPS tracking to zero before we left and found in fact the trail is just short of the 13 km mark in length... it is nice to confirm some of these trail stats once in a while.
Vancouver Hiking Trails – Diez Vistas
Trail Facts
Distance: 13 km (8.1 miles)
Time Allowance: 5.5 hours
Elevation Gain: 455 m (1490 feet)
Average Grade: 7% (Of interesting note: The ascent is much steeper than 7%, Average is the operative word here, because just slightly over half the trail is fairly flat.)
High point of trail: 607 m (1990 feet)
"Are You Trying to Kill Me?"
Not exactly the words I was expecting from Kelly! I know she asked me half in jest, but I could see she was tiring. The trouble was we were less than half way, as a matter of fact we were only about one fifth the distance.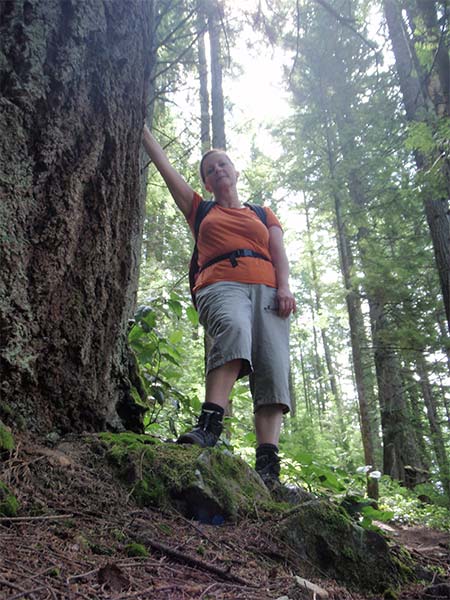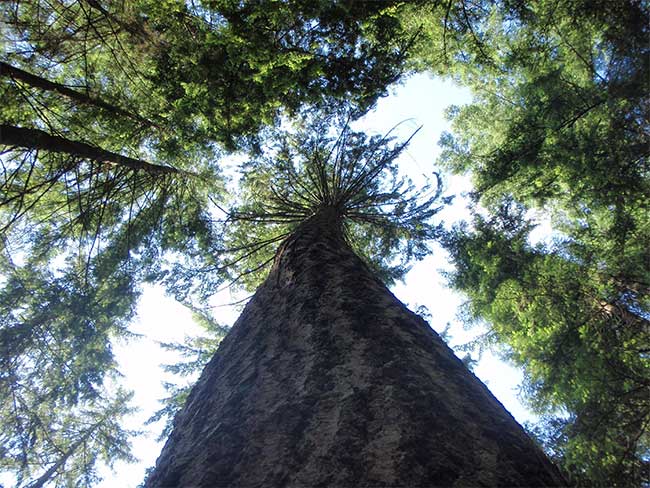 A huge Douglas Fir Tree! A view of the sky through the tree tops.
We decided we would refer to the handy reference book 103 Hikes in Southwestern British Columbia written by Jack Bryceland and Mary & David Macaree. First published in 1973 this handy reference book has seen several updates to maps and descriptions has information and trails evolved.
We departed the parking lots South end and headed up the trail. The grade is gradual at first but quickly rises until a series of switch backs takes you to the summit. Kelly required several rests on our way, no problem... always travel at the speed of the slowest member of your group.
We made the summit in about 2 1/2 hours; which by the standard 5.5 hours round trip meant we were traveling quite slow. We stopped for a bite to eat, a rest and started off again.
With most of the climb behind us the trail meanders through Hemlock, Douglas Fir and Cedar tree forests. The trees are very tall offering lots of shade, thankfully, because with each step I could see Kelly was fatiguing more. Descents can be as hard as the ascent, toe jamming, leg straining and thigh burning and this was taking its toll on Kelly. 
| | |
| --- | --- |
| Mark wearing a Badlands Superday Backpack | Kelly on Diez Vistas Trail |
We were committed to this Vancouver hiking trail because the thought of going back down the way we came up was more than Kelly could bear. The trail past the summit promised a more gradual downhill slope than did the ascent side, but, it also meant a much further distance.
"You May Have to Carry Me Out!"
I wondered quietly to myself if this might be a 'real' possibility? I quickly dismissed this idea, although we discussed the logistics, more in fun than being serious.
I had 5 meters of 10mm climbing rope in my pack. I could make a Boatswains chair and harness and strap her to my pack. A hundred or so meters at a time... we'd get out, but not anytime soon.
"No, you'll have to walk. We will just slow our pace and take lots of rest breaks, we'll make it."
| | |
| --- | --- |
| What a view! ~ Vancouver and Indian Arm from Diez Vistas Trail | Come on lady!! Can't you wait till you get off the mountain! I guess she couldn't leave home without talking on her phone! |
Those Are Real Tears!
It was now obvious that this hike was too much for Kelly, at least so close to the time of her being ill. We should have picked easier Vancouver hiking trails. Nothing we could do now though... walk, rest...walk, rest...
By the time we reached the 10 km mark Kelly was very near in tears... she was hurting, no question about that. There were real tears a couple of times, short lived but real none-the-less.
She Made It!
Very close to eight hours, she made it back to the trail-head. Now one week later Kelly says she is still a little sore, but not too bad.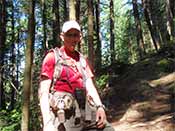 Me hiking the Diez Vistas Trail. Stopped for a short breather on our way to the summit.
Want to learn how to hunt moose? Or are you wanting to increase your moose hunting skills?

Look no further!

Our moose hunting tips book is written with not just the novice in mind, there are tips in the book that even the most seasoned moose hunter will find of value.
The book includes 57 chapters, with more than 150 pages of information, jam packed with tips, techniques and discussions - The Ultimate Guide to Moose Hunting!
Top of the Vancouver Hiking Trails Page
Return to the Hunting Fitness Page
Return to All About Moose Home Page