Yukon Style Moose Ribs
This moose rib recipe is very similar to the one that Robbie from Watson Lake submitted a few years back.

I've added my own spin to it and took a few pictures as well.
I hope you like it!

What will you need to cook the moose ribs?

Dutch Oven with tight fitting lid, big enough to hold all your ingredients. It really will depend on how much you are planning to cook.

We like our ribs cooked so the meat just falls off the bone so this recipe is going to cook very slowly. Be sure to check your liquid part way through cooking. You must maintain some moisture in your pot or it will dry out and be tough.

NOTE: The vegetables used in the recipe are added for the intent of flavour only. Chances are they will be discarded because of overcooking.

Moose Ribs - in our case still on bone, boneless would be fine too. Shorten cooking time to suit.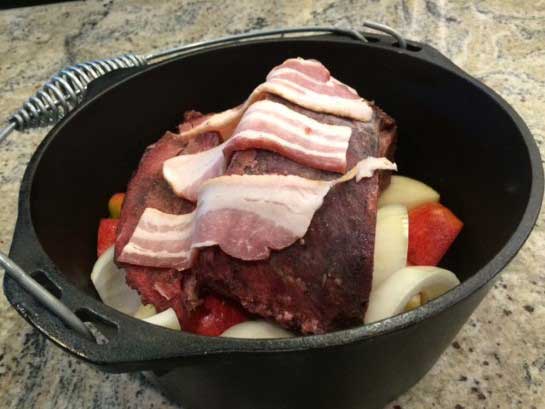 2 medium potatoes
1 medium onion
2 carrots
5 cloves of garlic (cut into slices)
1 apple
2 slices of bacon
500 ml can of Stella Artois Belgium beer - Oh Stella!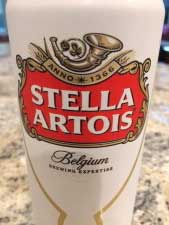 How are you going to cook these Moose Ribs?

Well, I used my Lodge cast iron Dutch oven and pre-heated my oven to 200 degrees Fahrenheit.

First off I washed all the veggies and apple then peeled the onion and garlic. I placed everything evenly on the bottom of the Dutch oven except the bacon. I then added the ribs, which I placed the bacon strips on. You saw how I placed the bacon in the picture.

Once I had that ready, I poured the can of beer over everything, put the lid on and placed it in the oven.

I'm cooking these very slowly... 12 hours.

Once they are well cooked, I removed the ribs from the oven, placed them into a cast iron fry pan and added a liberal amount of my favourite barbeque sauce.

What is your favourite barbeque sauce?

I placed the pan back into the oven at 350 degrees for about 20 minutes to cook everything together. You might even want to broil on high heat for 5 minutes to glaze the sauce.

I served the ribs with nugget potatoes, acorn squash and carrots.
Be sure to share the recipe and leave a comment below.

› Yukon Style Moose Ribs
Want to learn how to hunt moose? Or are you wanting to increase your moose hunting skills?

Look no further!

Our moose hunting tips book is written with not just the novice in mind, there are tips in the book that even the most seasoned moose hunter will find of value.
The book includes 57 chapters, with more than 150 pages of information, jam packed with tips, techniques and discussions - The Ultimate Guide to Moose Hunting!