BC Black Bear Hunt
by Dave Sargeant
(Mision BC)
There's not much of a story to be told about this BC black bear hunt.

We're driving to one of our hunting spots for a evening hunt when we drove pass a cut block and there about 60 yard stood about a 6' blackie.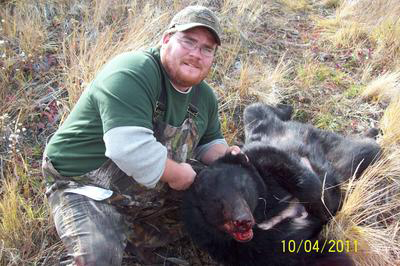 A Successful BC Black Bear Hunt
So we drove past it and stopped the bronco. I walk back to and nailed it with my 243 caliber rifle through both lungs he did about 3 leaps on his hind leg and hit the ground hard, bear down :)
---
Thanks for sharing your story of your BC black bear hunt Dave.
Black bears are very abundant in BC and not as many hunters target them as in years gone by. Unfortunately hunting of predators (bears, wolves, cougars etc.) has become politically incorrect.
The anti-hunting-lobby has made the public believe these animals are warm and cuddly.
Good on you and your partners for taking a BC black bear. They are good eating. :-)
Mark