Win Free Hunting Gear
So you want to win some free hunting gear just in time for hunting season? Enter our hunting gear giveaway, and win free hunting stuff. Here is how to enter…
We all need to learn to be better hunters and gatherers. By sharing our knowledge though lecture or stories we can all learn from each others experiences.
Stories have been told for centuries, this is how we pass information from generation to generation. Humans love stories. How many of you reminisce with your hunting buddies about last year's successes and failures. I am sure you have discussed what really worked well and what you tried that didn't work that well.
The Free Hunting Gear Prizes
Runlock Rope – 30 Feet No.20

Sitka Gear Optifade Beanie – Open Country Pattern

All-About-Moose Decal – small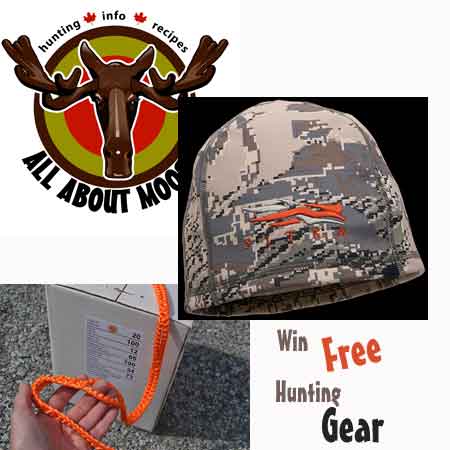 How many of you have said: Next time I am going to try this… or have said… I'll never do that again… better yet, said: that worked so well, I am going to do that every time.
Of course, not everyone has good experiences, or even ones that we are proud of… sometimes the moments we endure in the outdoors are downright frightful.
Have you ever spent the night in the woods? Been frightened, or lost? How about injured?
These are all experiences that you can share with others. Help them become better hunters, sportsman or simply a better photographer. Your advice can make someone else's trip into the great outdoors that much more enjoyable. Just share your experience for a chance to win free hunting gear.


So here's the deal…
Go to the bottom of this page and fill in the title for your story or tip to win hunting gear. See if you can capture the essence of the story in the title. Grab the reader's attention!
Are you happy with the title? Good, then move on to the body. Write at least 300 words if you can. It's pretty hard to describe much if you don't.
Entries must be posted by Midnight PST on September 15, 2012
Entries will be judged by content (usable tips, solid advice, just a really good story) by the owner of All-About-Moose. It won't hurt to have your friends vote and comment about your entries either! :-)
Click the following links for information about the hunting gear prizes.
Sitka Gear Optifade Beanie – Open Country Pattern
Don't worry about spelling and grammar; I can help you out there if you need it. Just write your story; I'll fix it.
I'm sorry you missed out on this contest, be sure to watch for further announcements or sign up for Moose Alerts and don't miss a thing.
The winner(s) for this months contest were difficult to choose. There were several good stories and some solid advice pointers submitted. Thanks to all who participated.

After much deliberation we chose Burns Lake Moose Hunting as the first place winner. We chose this story because the story submitted by Chris Johb was about sharing moose hunting with the next generation of hunters.

In second place the story Too Pee Or Not Too Pee by Bruce Sheppard was quite funny as well as containing some great pointers.

Lastly Plan Your Dream Hunt by Carl Kozak is a list on how to plan a hunt of a lifetime.

If all of you would please contact me with your current mailing addresses I'll get the prizes in the mail. Runner-ups will receive a length of Runlock Rope as well as a All-About-Moose decal.

Also, anyone else who entered the contest, please send me your mailing address if you would like a decal mailed to you.

Free Hunting Gear Contest Entries
Click below to see the entries others have submitted to our Free Contest...

Top of the Free Hunting Gear Page
Return to the Free Contest Page
Return to All About Moose Home Page
Want to learn how to hunt moose? Or are you wanting to increase your moose hunting skills?

Look no further!

Our moose hunting tips book is written with not just the novice in mind, there are tips in the book that even the most seasoned moose hunter will find of value.
The book includes 57 chapters, with more than 150 pages of information, jam packed with tips, techniques and discussions - The Ultimate Guide to Moose Hunting!