All About Moose Decal
If you have been waiting to get your hands on the coveted All About Moose Decal... wait no more.
It took us a while to finalize the logo for All About Moose and once the design was done then we needed to order and preview decals.
Currently we are offering two sizes...
The small All-About-Moose-Decals are approximately 5 inches by 4.75 inches .
Large All-About-Moose-Decals are approximately 11.8 inches by 11.1 inches.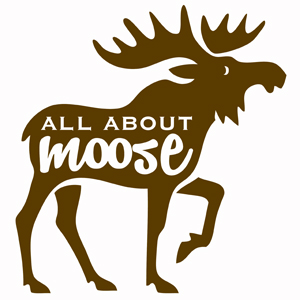 The decals are a simple peel and stick to apply. All you need to do is have a clean, oil and grease free surface to apply to. The decals will look good on your bow or rifle case, your truck door or window and anywhere else you may think of to apply them.
We certainly appreciate the fans and visitors to All About Moose and I wish I could give each and every one of you a moose decal for free.
Unfortunately I can't, but I can get them out to you for a low cost. We are selling the decals for just enough to cover the cost of printing and shipping.
It doesn't matter if you live in Canada or USA everyone will get a decal for the same low price.
Small - 9.95 USD
Large - 21-95 USD

Order your decal today! FREE SHIPPING!

I think it is important to show off the things we are proud of in our lives.
As hunters we are always being challenged about our beliefs and ethics. Displaying a decal will show the public who you are and what you stand for.

The decal is simple and non intrusive. You are showing off the animal you love!

I don't mean that you should only display an All About Moose Decal (that would be nice though) maybe moose are not your passion. However; I really think that you should show off to the world what you believe in.
By displaying an decal you help us get the word out about this website. We built this site to be the most informative site about moose, with your help and the help of your friends, we can keep it that way.
Please support this site by buying a decal or two and prominently displaying them for all to see.
Want to learn how to hunt moose? Or are you wanting to increase your moose hunting skills?

Look no further!

Our moose hunting tips book is written with not just the novice in mind, there are tips in the book that even the most seasoned moose hunter will find of value.
The book includes 57 chapters, with more than 150 pages of information, jam packed with tips, techniques and discussions - The Ultimate Guide to Moose Hunting!
And don't forget to order one of our Fiberglass Moose Calls. In stock and ready to ship.

Top of the All About Moose Decal Page
Return to the Hunter Gifts Page
Return to All About Moose Home Page