The BC Wildlife Allocation Policy
The BC Liberal Party has implemented a new BC Wildlife Allocation Policy, one that has British Columbia resident hunters up in arms.

Have you heard about the allocation policy? Did you know that the BC Government negotiated a new policy behind closed doors? One that undermines the previous one that was to be implemented starting in 2012.
Do you wonder why they did that?

Did you know that your odds of getting an LEH draw just got worse? The BCWF estimates that there are approximately 5000 fewer tags available to resident hunters now compared to the 1990's.

Did you know that the guides and Outfitters of BC (GOABC) are getting these tags to sell to non-resident hunters?

There are many questions about this new BC Wildlife Allocation Policy that remain unanswered. We'll try to fill you in on some of them.

MINISTER'S DECISION:

(It is Now Policy; December 2014)
The Minister's decision on the recommendations from the Wildlife Harvest Allocation Policy Review is to "approve the Allocation Framework without establishment of mitigation measures and with the following set splits of percentage of Annual Allowable Harvest between Guide Outfitters and Resident Hunters:" (replacement of Schedule A in the framework).
Regionally Tailored:
This decision will be implemented under policy first and until such time as legislative amendments can be made to include the set splits in the Wildlife Act.

The decision recognizes that the work required to explore the concept of allocations being done at the Population Management Unit (PMU) level is not complete and therefore these set splits will be applied regionally at the guide territory level.

There will be no more awarding of fractional territories, unallocated territories or vacant areas to a guide territory.

There will be no Guide Sustainability Trust Fund established.

The draft document for the Administration of the Industry (Guide Outfitter) Five Year Allocation which was conditional upon exploration of the PMU concept will not be implemented until such time as the assessment of the PMU concept is complete.  It will then be reviewed for applicability.

Exploratory work will be commencing on the PMU concept, however PMUs will not be endorsed by government until such time as draft PMUs are reviewed and assessed from the perspectives of any administrative burden to government as well as assessed for impacts to either the guide industry or the residents.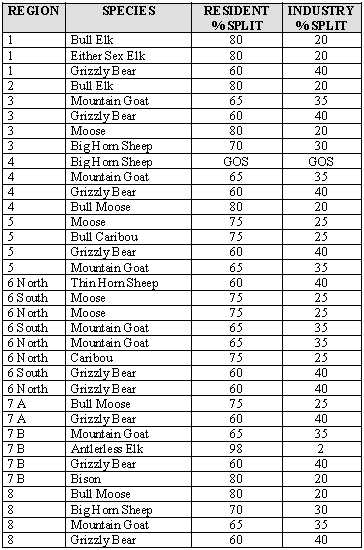 First off, we want it to be clear we don't wish to see any member of GOABC (Approx 210 members) be in financial hardship any-more than we wish to see BC Resident hunters (Approx 102,000) go without opportunities to hunt BC Wildlife.
We are not against Guide Outfitters!
But Guide Outfitters (GO's) have to be realistic.
GO's make up only 0.2% (yes that is 2/10 of 1%) of the hunters in BC.
Why should the non-residents agents (GO's) get such a lions share of the allowable harvest.
Maybe they need to get jobs like the rest of BC resident hunters.

We do want to make a stand against is this new BC Wildlife Allocation Policy, we see it as unfair and biased... tilted in the favor of GOABC members.
Why?
In most jurisdictions of Canada and USA the split (or allocation) ratio between resident and non-resident hunters is in the neighborhood of 90/10.

We think that is reasonable, fair even!

What do you think of our new spit of 80/20 and 60/40*?
What!
That's right... 80/20 and 60/40* (* on average, see the image above) with a 75/25 split for moose.
Moose is one of the most prized animals by BC Hunters, yet we only have access to 75% of the AAH.

BC Wildlife Allocation Policy Deal Breaker

Even after the hard negotiations back in 2007 (to be implemented in 2012) the split was a hard pill to swallow for BC resident hunters, but we made a deal.
That was until the ink dried. Well actually the ink didn't even dry...
GOABC never had (we don't believe) any intention of honoring that agreement.
The moment the deal was signed, wheels were set in motion to get more... more game for non-residents to hunt.
GOABC lobbied the Government for change to the policy. According to the freedom of information act fact finding, GOABC and GO's gave political parties more than $72,300 dollars in support in donations between 2005 and 2013 with the majority of the funds going to the BC Liberal Party.
What do you think? Was there any influence there?
"The 90-10 and 75-25, that gives the guide-outfitters the best deal in North America given resident demand," said Jesse Zeman, co-chair of the BC wildlife federation's allocations committee.
Read the Information Bulletin Dated Dec, 10, 2012
http://www.env.gov.bc.ca/fw/wildlife/harvest_alloc/docs/2012FOR0221-001981.pdf
More information about the Harvest Allocation Backgrounder from 2012
http://www.env.gov.bc.ca/fw/wildlife/harvest_alloc/docs/bkgrd_dec2012.pdf

As resident hunters we all know there is only so much game that can be killed in any given year/area. The numbers of animals hunters are left with to hunt are referred to as the Annual Allowable Harvest (or AAH).

"Allocations for resident and non-resident hunters are set only after conservation requirements and First Nations harvest opportunities have been fulfilled.

Conservation is the highest priority, and if there are concerns for the viability of a wildlife population, then harvest opportunities will be reduced or even suspended. If a harvestable surplus exists, the first priority for harvest goes to First Nations exercising their aboriginal rights, which entitle them to hunt for food, social or ceremonial purposes."
Quoted from the Information Bulletin
"If the needs of First Nations have been met then harvest opportunities for non‐First Nations individuals can be provided.
Non‐First Nations resident hunters (hereafter referred to a 'residents') are the third order of priority.
Non‐residents (people who reside outside B.C.) are the fourth order of priority."
Quoted from the Backgrounder

MLA's Support Resident Hunters

MLA Andrew Weaver has posted his support of resident hunters. Read what he has to say.
"In what ended up being a surprise to many people – and in stark contrast to the advice he received from his own staff – the Minister chose to increase the proportion of hunting licenses that would be available for the guide outfitting industry at the expense of resident BC hunters."
Share your opinions too!

PETITIONS AGAINST the
BC WILDLIFE ALLOCATION POLICY

Change.org Petition

BCWF Petition against the BC Wildlife Allocation Policy

BC Wildlife Allocation Policy Update
February 6, 2015 Global News - B.C. government backtracks, takes another shot at hunting allocation
February 6, 2015 BCWF - B.C.'s revised Wildlife Allocation Policy a step in the right direction but still falls short, according to B.C. Wildlife Federation

NEWS REFERENCES

The Vancouver Sun- sunletters@vancouversun.com
The Vancouver Province: Letters to the Editor – E-mail: provletters@theprovince.com
Every local newspaper, magazine and radio station contact links in BC
January 29, 2015 Comox Valley Record - Wildlife Harvest Allocation Review

CBC News - Hunting Regulations Favor Foreigners

Globe and Mail - BCWF Dismayed at big game hunting changes
http://www.bcwf.bc.ca/ >> News Releases

HuntingBC Forum - BC Wildlife Allocation Policy is negotiated behind your back
Vernon Morning Star - Area hunters take aim at wildlife allocations
Vancouver Sun -Sweeping changes to hunting allocations

Vancouver 24 Hours - BC Hunters fight over permits
Global News - Concern new hunting regulations favor out-of-province hunters

Kelowna Daily Courier - BC Hunters getting shafted
Osoyoos Times - Proposed changes to B.C.'s wildlife allocation policy
http://www.thefreepress.ca/news/286573611.html - Changes to B.C's Wildlife Allocation Policy could be devastating to local hunters
Want more? Google BC Wildlife Allocation News

GOVERNMENT CONTACTS

HONOURABLE CHRISTY CLARK
Premier and President of the Executive Council
E-mail: premier@gov.bc.ca
Phone: 250-387-1715
Fax: 250-387-0087
https://www.leg.bc.ca/mla/40thparl/clark-Christy.htm
Send Email to:
HONOURABLE CHRISTY CLARK
HONOURABLE BILL BENNETT
Minister of Energy, Mines and Responsible for Core Review
E-mail: bill.bennett.mla@leg.bc.ca
Phone: 250-387-5896
Fax: 250-356-2965
http://www.gov.bc.ca/ener/contacts.html
Send Email to:
HONOURABLE BILL BENNETT
HONOURABLE MARY POLAK
Minister of Environment
E-mail: mary.polak.mla@leg.bc.ca
Phone: 250-387-1187
Fax: 250-387-1356
http://www.gov.bc.ca/env/contacts.html
Send Email to:
HONOURABLE MARY POLAK
HONOURABLE STEVE THOMSON
Minister of Forests, Lands and Natural Resource Operations
PO BOX 9049 STN PROV GOVT
VICTORIA BC  V8W 9E2
Phone: 250-387-6240 Toll Free: 1-800-663-7867
Fax: 250-387-1040
http://www.gov.bc.ca/for/contacts.html
Find your Local MLA

What can you do?

Write to your Local MLA - Take a signed copy of your letter to your local MLA office and hand to them in person.

Write to: The Premier and President of the Executive Council, Minister of Energy, Mines and Responsible for Core Review, Minister of Environment, Ministry of Forests Lands and Natural Resource Operations

Join BCWF
Join your local Rod and Gun Club




What are you going to tell them about the BC Wildlife Allocation Policy?

When writing a letter to sell your point. Be polite, don't use vulgar language, DON'T USE UPPER CASE. State your case, mention you are a voter, your vote counts.
Tell them that your access to hunt is more important than that of tourists.
Tell them that the animals in BC are a public resource and not a political pawn.

Tell them you are not happy with this new BC Wildlife Allocation Policy
Want to learn how to hunt moose? Or are you wanting to increase your moose hunting skills?

Look no further!

Our moose hunting tips book is written with not just the novice in mind, there are tips in the book that even the most seasoned moose hunter will find of value.
The book includes 57 chapters, with more than 150 pages of information, jam packed with tips, techniques and discussions - The Ultimate Guide to Moose Hunting!
And don't forget to order one of our Fiberglass Moose Calls. In stock and ready to ship.

› BC Wildlife Allocation Policy