Birth of a Baby Moose (Moose Calf)
by Mark
(Alaska)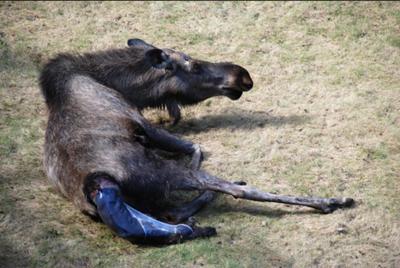 A baby moose being born... Almost there!
I was fortunate to capture these photographs of the birth of a baby moose calf right on my own property. What a privilege it was to witness such an event. I hope you enjoy looking at them as much as I did taking them. You will see a few of the pictures here, to see the rest of them (22 in all), follow the link. Mark in Alaska Photostream Please feel free to comment on the pictures and browse about if you like.

Editors Note:
Thank you so much for sharing the pictures of the birth of a baby moose. It is not often that we get a chance to witness such a marvelous event. Moose calves are extremely vulnerable in the first few weeks of life, we can only hope that this little guy survives his first year.
Join in and write your own page! It's easy to do. How? Simply click here to return to Baby Moose Pictures.
Want to learn how to hunt moose? Or are you wanting to increase your moose hunting skills?

Look no further!

Our moose hunting tips book is written with not just the novice in mind, there are tips in the book that even the most seasoned moose hunter will find of value.
The book includes 57 chapters, with more than 150 pages of information, jam packed with tips, techniques and discussions - The Ultimate Guide to Moose Hunting!