Have you ever met a Canadian Moose?
Would you want to?
When you think of the Canadian Moose, what images come to mind?
Bullwinkle and Rocky, Moosehead Beer, Canadian-Moose Hockey club or the four legged kind, the largest of the deer family.
Just do an internet search on moose and the results will astound you, in 2011 Google shows about 17,500,000 results.
The Canadian Moose is an impressive animal, weighting in at 600 kg and standing taller than any horse. You likely will not be nuzzling up to one any time soon!
Unless you are a hunter you might want to think twice about meeting one; or at least think about the circumstances you meet!
A healthy moose is capable of fending off grizzly bear and wolf attacks and therefore is a force to be cautious about. They look harmless but will charge if they feel threatened, especially a cow moose defending her calf. If you meet a moose while out walking your dog, keep your dog on a leash; to a moose, a dog resembles a wolf (wolves are predators of moose). Therefore a moose may charge a dog and the dog upon running back to you for protection unwittingly may bring the moose with him.
In recent Canadian Moose news, a woman out cross-country skiing near Kamloops British Columbia was attacked by a cow moose. Fortunately for her she managed to elude the attempts of the cow to trample her. Apparently the cow must have felt that her calf was threatened by the woman's dog and charged. The woman, knocked to the ground was able to fend off the cow moose using her ski poles.
In other current news: moose vehicle collision victims have launched a class-action lawsuit against the Province of Newfoundland. The claim against the Province is based upon the fact that the government introduced moose to Newfoundland over 100 years ago. Moose are not indigenous to the province and have proliferated. The claimants allege the Government is at fault for not keeping the moose population in check.
In March 2009 a Prince George man was attacked by a cow moose. The man received non-life threatening injuries and did not need to be hospitalized. The cow and her calf had been fending off the man's unleashed dogs when she turned on him.
In 2012 a moose hunter was critically injured in the Chilcotin area of BC. He had wounded the moose and while trying to locate the injured bull, he was charged and then trampled. The hunter was severely injured and spent several weeks in intensive care recovering from his wounds.

You must drive carefully when travelling in Canadian Moose country. Every year in Canada hundreds of motor vehicle collisions with moose happen, and the vehicle and passengers usually loose. Hitting a moose with a vehicle is like knocking a 500 kg block of concrete off a set of stilts. With the forward momentum of the vehicle the moose legs would be broken then while the vehicle continues forward the full weight of the moose body would land on the hood or windshield of the vehicle. Depending on the speed upon impact will determine just how much further the moose will travel into the vehicle. I have seen moose thrown completely into the back seat of the vehicle and killing the occupants.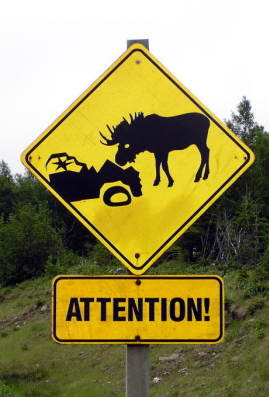 Newfoundland Moose Sign Courtesy of Wikipedia
Canadian Moose collisions are a serious matter; many people are seriously injured or killed every year. Not much can be done to prevent these accidents other than drivers should drive slower when travelling at night and governments can do their part by removing brush from the shoulders of roadways to offer more visibility to drivers.
Brake for Moose; It Could Save Your Life
Moose have been documented attacking humans, vehicles and unbelievably locomotives. Obviously they are not attacking to eat you, or even to harm you because a moose is not a predator. A charging Canadian moose is only trying to get its message across to you. Leave me alone!
Want to learn how to hunt moose? Or are you wanting to increase your moose hunting skills?

Look no further!

Our moose hunting tips book is written with not just the novice in mind, there are tips in the book that even the most seasoned moose hunter will find of value.
The book includes 57 chapters, with more than 150 pages of information, jam packed with tips, techniques and discussions - The Ultimate Guide to Moose Hunting!
Top of the Canadian Moose Page
Return to the Moose Facts Page
Return to All About Moose Home Page