Use a Chest Pack for your Binoculars to Eliminate Neck Strain
First Problem: Sore Neck
Because of a lack of a chest pack, I succumbed to neck strain for years, but no more. I actually switched to a chest harness a couple of years ago after seeing many television hunters wearing them. After I did a little research I made the switch, and man, what a difference that made.
Second Problem: Dirty Lenses
The problem with just using a chest harness is you must still deal with keeping your eyepieces clean and dry. This means fumbling with lens caps or keeping your binoculars inside your jacket. This is the method I used for many years. It works but it is not convenient. When it is cold and you want your jacket closed to stay warm, you cannot access your binoculars in a hurry.
This becomes a twofold problem, one is the potential loss of your caps along with once you remove them you have to find somewhere to put them. The other part of the problem is fogging and or dirty lenses. If you keep your binoculars inside your jacket where they will stay clean, they will also be warm.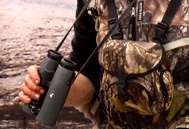 Pull warm binoculars out into a cold and damp atmosphere and the lens will instantly fog up. Keep your binoculars outside your jacket without lens covers and they will get dust, twigs, rain and snow on them. You are then forced to clean your lenses before you can use them.
Having binoculars outside your jacket with lens covers is a problem too! Once removed what do you do with them? Too much movement, and precious moments lost may result in not seeing or harvesting the game you wanted to observe in the first place. It is just a losing proposition.
Now put on a binocular chest pack and see the difference. You binoculars are right at your fingertips; kept dry and clean ready for use at a moment's notice. You get the benefit of having a shoulder harness to take the weight of your binoculars off your next and the added benefit of having them protected from the elements for your immediate use.
Binoculars can be very expensive, you need to protect them and a chest-pack will do the job nicely.
The Solution
We have come across a great chest-pack model that you should add to your moose hunting supplies. The Alaskan Guide Creations Bino Chest Pack designed by long time guide Jaret Owens. Jaret designed the pack out of necessity and has been making these packs for more than forty years. Originally he made these for himself but now he has realized that many other people out in the field can use them too. He is passionate about these binocular chest-packs and has refined them to the quality North American made product that is produced today.
Alaskan Guide Creations Bino pack is one that every moose hunter or outdoorsman should own, added to your hunting supplies, this is an asset you will not be sorry you purchased.
About the Bino Chest Pack
The Alaskan Guide Creations Bino Chest Pack is the original that all others are modeled after today. Offered in solid Loden Green Cordura or Kings Mountain Shadow and Kings Desert camouflage, you will find one that meets your needs.
The design of this binocular pack will accommodate 10 X 50 roof prism binoculars and has some extra pockets for other essential gear, such as your GPS, maps, compasses or your digital camera. Have these items at your fingertips instead of digging through your back pack or deep in your pockets is a real benefit.
Archers and Rifle Hunters
Both styles of hunter will benefit from the chest pack. The pack is easily adjusted so it will not interfere with a drawn bow, and it in no way inhibits a rifle hunter.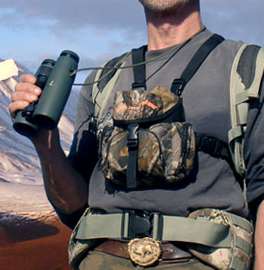 Purchase
To buy a The Alaskan Guide Creations Bino Chest Pack click here, and be sure and tell Jaret that All About Moose sent you. Order now so you will have your bino pack in time for hunting season, you do not want to get caught in the pre-season rush.
Another excellent case made by one of our sponsors is the Badlands Binocular Case. This case will keep your binos clean and dry without the fuss of aclip to close the lid. The magnetic closure is a breeze to use. If a full case is not what you need then I would suggest looking at the Badlands neck strap.

---
Want to learn how to hunt moose? Or are you wanting to increase your moose hunting skills?

Look no further!

Our moose hunting tips book is written with not just the novice in mind, there are tips in the book that even the most seasoned moose hunter will find of value.
The book includes 57 chapters, with more than 150 pages of information, jam packed with tips, techniques and discussions - The Ultimate Guide to Moose Hunting!
And don't forget to order one of our Fiberglass Moose Calls. In stock and ready to ship.

Return to the Moose hunting Supplies Page
Return to All About Moose Home Page