Curried Moose Satay is a delightful and easy to prepare hors d'oeuvre!
Looking for a great appetizer for your party? Curried Moose Satay is a new to us recipe. We served them to a crowd and the skewers disappeared. Satay is a great barbeque food and it is fun to eat.
Satay is a very popular appetizer dish that when done correctly will satisfy your guests until the main course is served. As a matter of fact we have used this particular recipe as a main dish too! Try it out and let us know what you think.
Around here we love curry, so it is only natural that we curry moose satay... are we ever glad we did. This is an awesome recipe. Please don't forget to share our recipes on your Facebook Page too as well as give us a like!
Moose meat is naturally low in fat, and because it comes from the wild it contains no harmful chemicals or hormones. Moose meat is so low in fat that you often have to add some to prevent it from being dry. When we process our Moose meat we do not add any fat to our mince, choosing instead to add fat when cooking as needed.
Directions:
Soak the bamboo skewers in water at least one hour to help prevent burning on the barbeque.
Prepare the meat by first removing any fat, silver skin or gristle using a very sharp knife. Once this is complete slice the meat into 1/4 inch slices that will threaded onto the skewers after marinating. Slice the moose into thin strips cutting against the grain, not with it.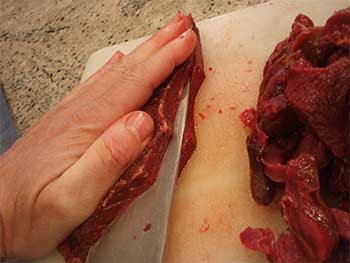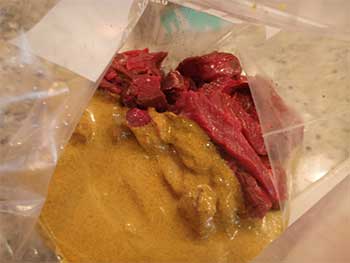 Combine all ingredients in a bowl and mix well. An alternative is to place into a bag so you can turn the bag over half way through the marinade time. Place in refrigerator for at least four hours, overnight if possible.
Once the marinate has completed, thread the moose meat in any desired fashion onto the pre-soaked skewers.
Have a Comment? Do you have a favorite Moose Recipe or Venison Recipe you would like to share? Click here.
Satay Sauce Ingredients:
1 Tablespoon Tamarind
1 Tablespoon Sugar
1 Tablespoon Peanut Butter
1 Tablespoon Fish Sauce
1 Tablespoon Red Curry Paste
1 Cup Coconut Milk
1/4 Cup Peanuts
Satay Sauce Directions:
Combine all ingredients in a blender and blend on pulse until the peanuts are at the desired consistency. Pour mixture into a saucepan and heat over a medium heat. Pour into serving bowl.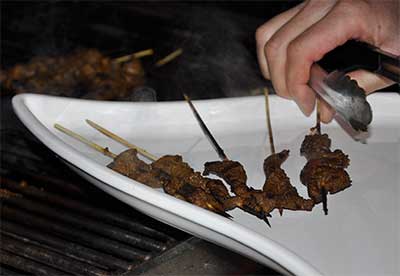 Barbeque Directions:
Preheat Barbeque set to Medium High
Cook on a well oiled grill for 2-5 minutes on each side. Do not overcook as this will dry out the meat and make it tough.
Serve on a white platter with Satay sauce on the side.
Enjoy the Curried Moose Satay
This recipe can also be used with any other meats.
Curried Moose Satay Review

Hey Mark, I don't have Facebook , so I will leave my comment for you here. The curried moose satay was a hit, awesome job.  I'll try and let it marinade longer next time to pull out more curry flavour. The only thing I did tweak a little was the dipping sauce, I added a dollop of sour cream just before serving the dip. I found this gave it a nice full richness creamy flavour. So I will be trying some more of your recipes the next time I pull some game from the freezer.
R. McCormick

Want to learn how to hunt moose? Or are you wanting to increase your moose hunting skills?

Look no further!

Our moose hunting tips book is written with not just the novice in mind, there are tips in the book that even the most seasoned moose hunter will find of value.
The book includes 57 chapters, with more than 150 pages of information, jam packed with tips, techniques and discussions - The Ultimate Guide to Moose Hunting!
And don't forget to order one of our Fiberglass Moose Calls. In stock and ready to ship.

Top of Curried Moose Satay Page
Return to All About Moose Home Page