Endless Hot Water Heater Warranty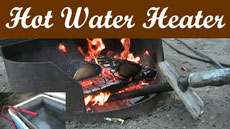 The warranty we are offering for the endless hot water system is as follows:



Warranty
No warranty expressed or implied.

Why?

Because of the environment the water heater can be used we have no control over the damage that could result from:
Freezing
Boiling Dry
Hoses placed too close to the fire
Spilled hot water
Burns
Empty reservoirs
Tripping
Melting

The water heater user must ensure there is always a supply of water and that it (the reservoir) is elevated correctly. It must never be allowed to freeze (or never be used while frozen) and the reservoir must be protected from spillage.

However; if you purchase one of our heaters and find a fault with the material or workmanship in its operation, send us detailed photos and descriptions of the problem and we will determine if something can be done for you.
Of course our end goal is for you to have a functional and lasting endless hot water heater to use in your campfires.

Shipping of this item is expensive; for us to get it to you and if you need to return it. We (or you) don't want to have to incur shipping costs for items that were damaged because of misuse.

Liability Statement

In no event shall our company be liable for any direct, indirect, punitive, incidental, special consequential damages, to property or life, whatsoever arising out of or connected with the use or misuse of our products.

Want to learn how to hunt moose? Or are you wanting to increase your moose hunting skills?

Look no further!

Our moose hunting tips book is written with not just the novice in mind, there are tips in the book that even the most seasoned moose hunter will find of value.
The book includes 57 chapters, with more than 150 pages of information, jam packed with tips, techniques and discussions - The Ultimate Guide to Moose Hunting!
And don't forget to order one of our Fiberglass Moose Calls. In stock and ready to ship.

› Warranty