Eye to Eye with Two Bull Moose
by Ken L
(Kelowna BC)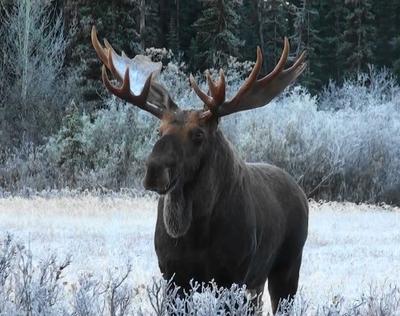 Looking at Moose... Right in the Eye!
Eye to Eye with two Bull Moose

It was October 4th and was the rutting season for moose.
As I approached the edge of the meadow I could hear bull grunts coming from behind the brush.
A nice bull entered the meadow and immediately made eye contact with me.
He was then distracted by a bigger bull coming through the brush.

See them live... Eye to Eye

The bull started walking towards me.
As he came closer I became uncomfortable and my movement spooked him.
He ran a short way but came right back and then lowered his head as he gave a snort causing steam to come from both nostrils.
He then crossed the meadow to chase away a smaller bull only
to return and again I was eye to eye with this magnificent bull.



Return to Moose Photo Contest 2013.
Want to learn how to hunt moose? Or are you wanting to increase your moose hunting skills?

Look no further!

Our moose hunting tips book is written with not just the novice in mind, there are tips in the book that even the most seasoned moose hunter will find of value.
The book includes 57 chapters, with more than 150 pages of information, jam packed with tips, techniques and discussions - The Ultimate Guide to Moose Hunting!