Moose Photo Contest 2013

The moose photo contest invites you to share your moose pictures. The contest isn't limited to live moose so your pictures can also be from your hunting trip and of course there are some great prizes to be won again this year.
This year again we will be offering some fantastic prizes. Be sure and collect your best live moose and moose hunting pictures as you can this year.
New this year! Because we had some requests we thought we would allow videos to be entered too. In order to submit a video just include a link to the location and you are set. Please though, add a picture or two either from your video (screen shot) or other to keep your submission interesting. You are still required to write at minimum 50 words to describe your entry.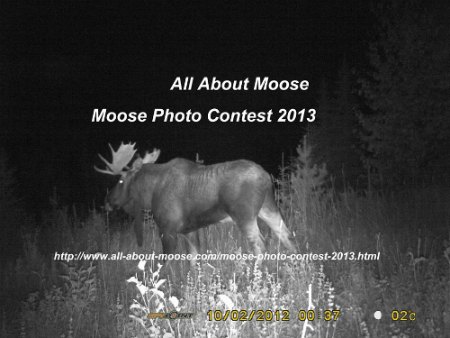 The moose photo contest will run until midnight April 30, 2014, so there is lot's of time to enter multiple times. We'll be using Random.org to pick the winners of the prizes for the contest.
Based on feedback received we have decided to amend the rules for the contest as follows:

The best photo/video will receive top prize then the others will be awarded using Random.org to pick them. The winner will be able to choose between the Badlands Backpack or the Spypoint Trail Camera.

What Types of Moose Photos?
Pictures of live moose and your moose hunting pictures. Videos are also ok.

We would love photos that include moose… with or without you.

Enter your: calf moose pictures, cow moose pictures and your Big Bull Moose pictures. Big or small, share them!

The moose pictures must be your own (or you have permission to use) and not subject to copyright. Any pictures that are submitted and found to be "hacked from someone" will be disqualified and removed from the contest immediately.
Note: You may only enter the same picture one time.

Prize List

The following prizes will be awarded by random draw.

| | |
| --- | --- |
| Badlands Superday Backpack | Spypoint C4 Trail Camera |
| | |
| --- | --- |
| Spypoint Outdoors KIT-LFT | |
All About Moose full-zip Hoodie


All About Moose Logo Cap


All About Moose Sweatshirt

The Sweatshirt is sponsored by Golden Needles Embroidery & Screenprinting
Runlock Hunting Set

Hunt with a dog? Here's a leash and utility rope made for the hunter... read about it here.
If you are chosen as one of the winners, you could win one of the following items:
Badlands Superday Backpack, Badlands Cap and Decal
"In my books, the Superday Pack is an awesome backpack." ~ Mark the Mooseman
You simply can't go wrong with this great little pack (not so little actually), it's 1340 cubic inches. It will carry everything you need for a day trip or a minimal overnighter.
Spypoint Cameras has generously offered two prizes: A C-4 Trail Camera and a KIT-LFT
"We use the Spypoint Cameras exclusively for our trail cameras. They take awesome photos and video with sound!" ~ Mark the Mooseman
All About Moose Full Zip Hoodie  and a Logo Cap, your choice of color.
Runlock Rope has sponsored a Hunting Set for the funny moose contest.

All About Moose Sweatshirt - Sponsored by Golden Needles

The rules are simple enough. Post your photo or story (must include at least 50 words) of ORIGINAL content. Don't go copying from the internet... anyone can do that. Go out, armed with your camera and take some moose pictures, then tell us something about them. It's not hard and we'll enjoy all of them.
Moose Photo Contest Winners Circle

We would like to thank all those who participated in our contest this year, 29 entries in all. Awesome!

It was a tough  to choose this years top winners as we had some great entries.
Honorable mention goes to Kathy B for her moose photos "4th of July Guests" Kathy shared her first ever moose encounter pictures with us.
We are in the process of contacting the top prize winners so they can chose their prizes. Once that is complete we will notify everyone else.
We had so many good entries this year -- really it was amazing. I look forward to receiving your entries to the next Moose Photo Contest 2014 which we will be announcing in the near future.
Start snapping those moose pictures!

Shared Moose Photos and Stories
Click below to see the moose photos others have submitted to this webpage...

Top of the Moose Photo Contest 2013 Page
Return to the Free Contest Page
Return to All About Moose Home Page
Want to learn how to hunt moose? Or are you wanting to increase your moose hunting skills?

Look no further!

Our moose hunting tips book is written with not just the novice in mind, there are tips in the book that even the most seasoned moose hunter will find of value.
The book includes 57 chapters, with more than 150 pages of information, jam packed with tips, techniques and discussions - The Ultimate Guide to Moose Hunting!
And don't forget to order one of our Fiberglass Moose Calls. In stock and ready to ship.