Momma and Babies Moose
by Curt
(Athabasca, AB)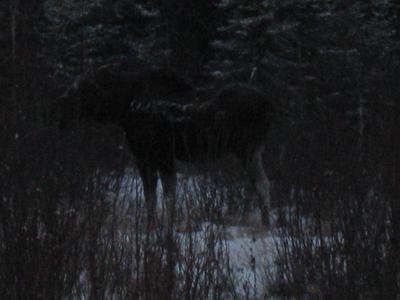 Mom alone
After returning from my annual trip to western Alberta I hunt locally around where I live north of Edmonton. One morning I ran into a lovely cow and her twins. The pictures I took were taken about 5 or 10 minutes before sunrise so the quality isn't the best.

The one picture is just the cow and the other shows both calves but they're a little hard to see. One is right behind mom and the other is just in front mostly hidden behind willows.


---
Thanks for sharing the pictures with us Curt. Like you say, the momma moose and her babies are a little hard to see, but they are there.
Someone once said to me why post my pictures, I'm not a professional photographer!
My response... I'm no pro either and people appreciate the fact that you don't have to have a perfect photo to be able to share it.
Case in point... how many times do you show off to your friends all the pictures on your iPhone or from your recent vacation to the beach. You weren't a professional then either! lol
Thanks again for your support!