What the Wolf's left me!
by Fred John Price
(Ontario, Canada)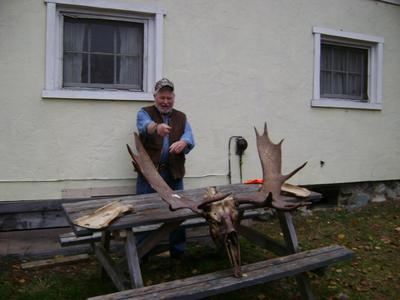 What the Wolves Left Me
This a Pic of a 47 inch Moose Rack that I found while Moose Hunting.

My Buddy & I stopped to check out this spot for signs of Moose in a clearing when we seen all these huge Wolf tracks.

I seen some branches browsed off so I told my Buddy Tony that I was going to go back to the Van & get my rifle & check the signs of browse out.

As I got closer to the browse I could smell something really rotten. I looked over to the one side of the clearing & spotted a pair of shoulder Blades/Scapula's laying on the ground.

I went over & picked them up and walk real slow waving them back & forth to my buddy acting like a Moose.

I went back over to the same spot & looked where the smell was coming from. To my surprise there laid, wedged in the big rocks was this Huge Moose Rack.

Stinking like crazy among the rest of the bones & fur everywhere that the wolves had eaten.

I dragged the Rack & Head covered in critters out & just reeking & told my buddy I was taking it home.

Well, after a long argument & putting it in his Van, we drove back to Camp with our heads out the windows just gagging.

I had to get the O.K. & heck from the M.N.R. for moving it from the site I found it, I got to take it home.

I am currently bleaching the skull & scapula's.

Its going to hang in my Rec Room with the Scapula's as Scones on each side of it.
I think it will look real good there & better than going to waste in the bush!


---
That's one heck of a find Fred! I would have done the same... plugged nose and all! lol
Kind of odd that M.N.R. would be so strict about moving an obviously old skeletal remains. You obviously didn't just shoot it. I guess rules are rules, eh?
Thanks for sharing!
Mark
"The Moose Man"
Return to Moose Photo Contest 2013.
Want to learn how to hunt moose? Or are you wanting to increase your moose hunting skills?

Look no further!

Our moose hunting tips book is written with not just the novice in mind, there are tips in the book that even the most seasoned moose hunter will find of value.
The book includes 57 chapters, with more than 150 pages of information, jam packed with tips, techniques and discussions - The Ultimate Guide to Moose Hunting!
Like this page?

---
---