Saskatchewan Moose
by Darian
(Saskatchewan)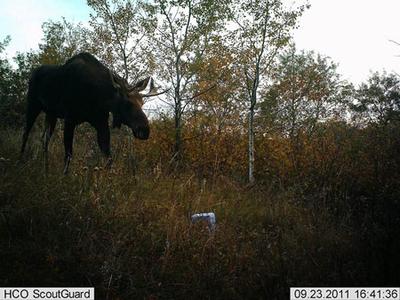 Saskatchewan Three Year Old Moose
Two small bull moose we had many opportunities to shoot, maybe next year we'll find a bigger one.

We are in Saskatchewan and we don't have a blind set up there, just the trail camera to see what is in the area.

Yet this moose we probably seen it more than 10 times.

We had a really close encounter with it, as walked out of the bushes while I was hunting whitetail.

He came to 5 yards from the blind! That was a very exciting experience! :-)


---
Thanks for sharing your pictures of the Saskatchewan moose Darian.
I realize you are just starting out in your hunting career and we do appreciate you taking the effort to share with us.
Hopefully next season you'll catch up with the "big" one you are dreaming of.
Return to Moose Photo Contest 2013.
Want to learn how to hunt moose? Or are you wanting to increase your moose hunting skills?

Look no further!

Our moose hunting tips book is written with not just the novice in mind, there are tips in the book that even the most seasoned moose hunter will find of value.
The book includes 57 chapters, with more than 150 pages of information, jam packed with tips, techniques and discussions - The Ultimate Guide to Moose Hunting!
And don't forget to order one of our Fiberglass Moose Calls. In stock and ready to ship.