Just Before Hunting Season
by Dakotha S
(Grand Cache)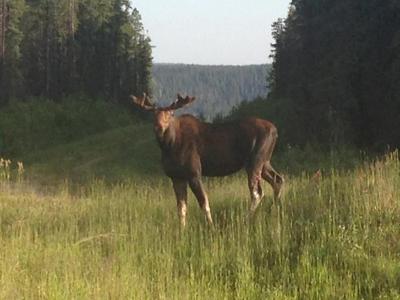 Allways - just before hunting season! lol
Well these pictures were taking just out side of grande cache Alberta.


Just before hunting season one morning on my way to work.
There were 3 younger bulls about his size, the other 2 were on the the other side of the road, and as you can tell from the pictures that's what he was looking at.
I grunted a few times to get him to stop so I would have time to take a few pictures, moose are such gorgeous animals.
I grew up on a farm in British Columbia, an we always had moose walking through are yard lol
An every time I see them I stop an watch an call, it's nice to seem them just be them selves in there natural habitat.
The last picture is one of the other bulls on the other side of the road, hard to see because of the sun.