Small Bulls Play Fight
by Ken L
(Kelowna BC)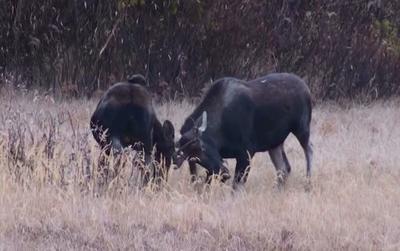 Small Bulls Play Fight
A small spike bull comes behind a three point bull and cow as they walk in the meadow.
He then lowers his ears and moves aggressively towards the bigger bull.
They begin to play fight,getting practice for the rut in future years.
They soon part and move on.

---
Ken, thanks for sharing these:
Nice to see two immature bull moose with a cow moose, shows an indication of a healthy herd.
Immature moose do, as you say, 'play fight' learning to push each other around.
It is unfortunate that as moose get bigger and older, the pushing and shoving matches get more aggressive, to the point of serious injury and even death may occur. Of course not all such strength testing ends up that way, rather, serious injuries and fatalities are actually quite infrequent.
Bulls tent to know who their rivals are and how big the 'other guys antlers' are. In most cases bulls just show off (called posturing) to each other and once the dominance has been established the subordinate will in most case keep his distance.
~ Mark - The Moose Man