Moose in the Rut
by Ken Leier
(Kelowna, B.C.)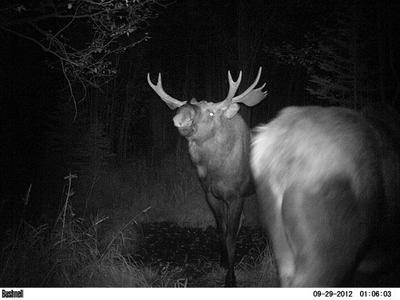 Bull Moose Stretches Neck to Smell if Cow is Ready to Breed
A big bull follows a cow to a spot directly in front of my trail camera. The bull digs up the ground, urinates on that spot and then uses his antlers to dig it up some more.

Then the cow moves in, smells the ground and then lays down where the big bull had urinated. This is definitely a sign of moose in the rut.


---
Thanks for sharing your photos with us Ken. The moose photos clearly show the sequence in which a bull will create a scent pit and how the cow moose will utilize it. After breeding this cow when she is ready, the bull will continue to visit the wallow in case it attracts more cow moose.
Upon each visit he will urinate the spot again to keep his scent fresh in hopes to lure more cow moose.
As you mention, this is obvious rut behavior by moose, confirmed by the moose photo date of Sept. 29th... bingo!
~ Mark MTMM