Game Recovery Hunting Tip
by Steve Kane
(Courtenay, BC, Canada)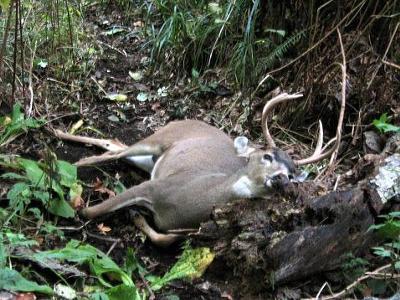 Nice Blacktail buck!
After the Shot Tip(especially with a bow)
Whether you're bow hunting moose, elk deer or whatever big game species. After you've made that shot, the game rarely goes down right away.
It usually runs or walks off, most times out of view, so you can't really see it go down.
Heed this Hunting Tip
If you know you made a good double lung or heart shot, be patient and wait at least 20-30 minutes before going after your trophy. This gives the game a chance to expire, without being disturbed and possibly jumped.
I've seen too many bow-hunters go after their game only minutes after the shot, and wonder why they can't find it.
If you think you're shot wasn't such a great one, then back right out and give the game 4-5 hours to bed down and at least weaken to a point where you can trail it, and finish it off, without jumping it and having it get away on you.
This coastal black-tailed buck was one I had to let go overnight, because I wasn't sure about the shot, and he had already ran full tilt across an open field to the bush-line about 250 yards away.
I came back in the morning and there was no blood trail, so I started a grid search and found him less than 20 yards from where he entered the bush-line.
Be patient, it pays off in the end.