Hunters Tribute
by Marco
(Nigadoo, NB)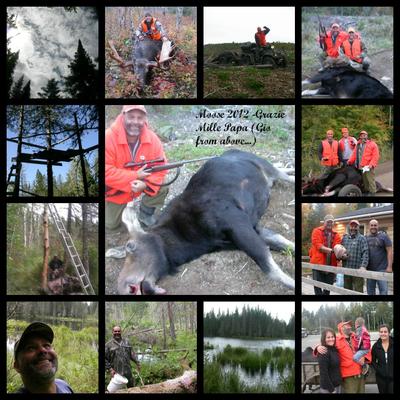 Hunters Tribute
I've been applying for my moose hunting license for 27 years without any luck.

I should point out that every year there is annual draw in New Brunswick and it's not easy to get a chance to moose hunt because there are "Quotas for resident moose hunting licences and they are determined on an annual basis for each Wildlife Management Zone".

My father Giovanni Scichilone was an avid hunter who loved spending time in the woods and before he died August 5th 2011; He told me:

"Son don't worry one day you will get your moose license and you will have a chance to hunt near our camp".

A few weeks before he died he gave me one of his guns, a 308 Savage lever action rifle and he said "It's an old gun but a good rifle. You will kill a moose with it!"

He sure was right and I finally got my name drawn on July 9th.

On July 11th 2012, while building up a SALT LICK with my bro Roberto I was thinking of the words he had shared with me and once the salt lick was completed I looked straight above me and took a picture aiming the sky.

I said "Thank you Papa".

Once home after loading the pic on my FB page my Mom asked me if I saw the shape of a cow moose in one of my pics? I was stunned, there was a shape of a "cow moose" to the clouds...(shown top left)

No less to say I shot a cow moose on September 29th at 7:11am!

My brother Gino got a nice buck *archery* catch a week prior in Ontario...
My Dad was surely with us - What a journey , what a tribute...Priceless !
Hoping I will be able to share my passion with my 5 beautiful kids.

Return to Moose Photo Contest.
Want to learn how to hunt moose? Or are you wanting to increase your moose hunting skills?

Look no further!

Our moose hunting tips book is written with not just the novice in mind, there are tips in the book that even the most seasoned moose hunter will find of value.
The book includes 57 chapters, with more than 150 pages of information, jam packed with tips, techniques and discussions - The Ultimate Guide to Moose Hunting!