"I Love You Mom!"
by CARL KOZAK
(HAYWARD WIS.)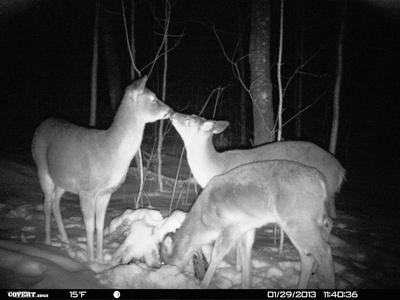 I LOVE YOU MOM
30 years ago we built a log hunting cabin in the wilderness of Northern WI. Today is Feb 5th is 18 degrees below zero and the cabin snowed in and only accessible by snow shoes.

A few weeks after our whitetail season ended two months ago, I put out a trail cameras to see what survived the hunting season, along with some nice clover hay for them to enjoy during our harsh winters.

I have hundreds of trail camera photos, but this one of a doe and two fawns seem to tell a true love story of nature.

I am so fortune to have this photo just to remind me how animals survive and share companionship.
Sharing the photo with you with hopes you too will enjoy it.

Carl


Return to Moose Photo Contest.
Want to learn how to hunt moose? Or are you wanting to increase your moose hunting skills?

Look no further!

Our moose hunting tips book is written with not just the novice in mind, there are tips in the book that even the most seasoned moose hunter will find of value.
The book includes 57 chapters, with more than 150 pages of information, jam packed with tips, techniques and discussions - The Ultimate Guide to Moose Hunting!
And don't forget to order one of our Fiberglass Moose Calls. In stock and ready to ship.