Spicy Italian Meat Balls
I do not have any Italian roots but this recipe for Italian meat balls will satisfy those urges for a change in culinary tastes. Step away from the North American norm and try a recipe destined for Italy but with a moose meat substitution.
These spicy meatballs will make a great appetizer for parties too.
It is best to make these meat balls early in the day or the day prior to using them. You do this so all the spices will have a chance to permeate the entire moose meatball.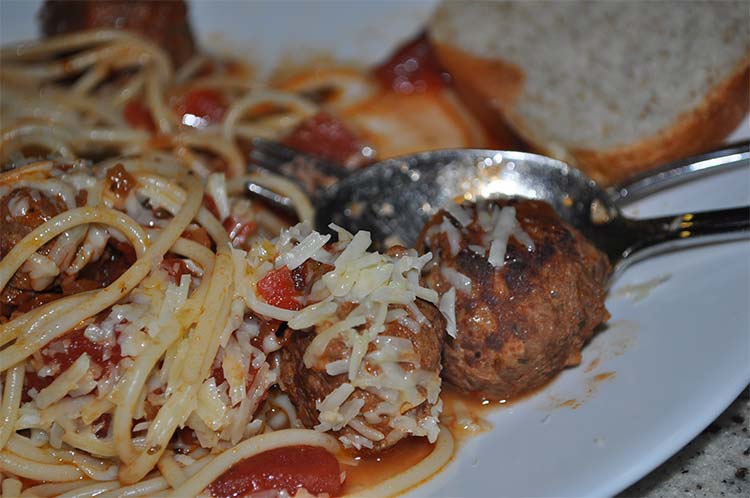 Meat Ball Ingredients

Moose Mince 2 pounds
1/2 bulb of garlic, peeled and chopped
1/2 cup bread crumbs – seasoned
medium onion chopped fine
minced parsley 2 tablespoons
1 medium egg
salt and pepper to taste
1/2 teaspoon fresh rosemary – minced
Italian Meat Balls Directions
Place all ingredients in mixing bowl and thoroughly mix. Form your meatballs into the size you like for serving. I like small ones for use as appetizers (one biters) and larger ones for use in spaghetti. Roll into balls and place on a cookie sheet and place in freezer for about one hour. This helps to hold the form when cooking. Saute in olive oil until evenly browned.
Sauce Ingredients
medium onion chopped fine
1 -2 jalapeno peppers (depending on how hot you like your food)
1/2 yellow or red bell pepper - chopped
1/2 bulb of garlic, peeled and chopped
1 medium can of tomato sauce
1 large can of diced onions (or substitute stewed onions and dice yourself)
salt and pepper to taste
1 teaspoon Italian spice mix
2/3 cup parmesan cheese - grated
2 teaspoons sugar
1/2 cup red wine
mushrooms if desired
Sauce Directions
Saute garlic and onion in olive oil, once soft and translucent add the peppers and tomatoes. Add meatballs and simmer for about two hours. Stir gently and frequently to prevent burning and breaking.
Cook your favourite pasta dish to serve along with the Italian Meat Balls serve and sprinkle liberally with parmesan cheese.
This dish is (was) delicious when I made it. It made enough to serve six with a few meat balls left over to use as appetizers... serve with a dipping sauce of your choice.
Steve, one of our site visitors wrote in and said this about the recipe:
Great recipe. I mixed the moose meat with ground pork, and braised the meatballs before adding them to the sauce. My girlfriends teenager ate 4 of them, plus the pasta and sauce, and they weren't small :)
Want to learn how to hunt moose? Or are you wanting to increase your moose hunting skills?

Look no further!

Our moose hunting tips book is written with not just the novice in mind, there are tips in the book that even the most seasoned moose hunter will find of value.
The book includes 57 chapters, with more than 150 pages of information, jam packed with tips, techniques and discussions - The Ultimate Guide to Moose Hunting!
Top of the Italian Meat Balls Page
Return to the Moose Recipes Page
Return to All About Moose Home Page