The Traditional Meat Pie Recipe
Made with Moose Meat
How did we end up with the best moose meat pie recipe?
We belong to a dinner club in which the host picks a theme and we all bring a dish to correspond with that theme. The latest gathering was an International Christmas dinner and my wife decided to make Tourtiere.
Tourtière is a traditional Quebecois Christmas dish and even though Quebec is still in Canada, much to the dismay of the Parti Quebecois, this dish feels somewhat foreign as it is not in my wife's traditional Christmas line-up.
If I have my way, though, this meat pie recipe will be added each year from now on because I loved it! Although my opinion is probably skewed because I am pretty sure the fact that she decorated it with a moose made me biased.
Seriously though, if you take the time to make this meat pie I guarantee you will not be disappointed. It was delicious!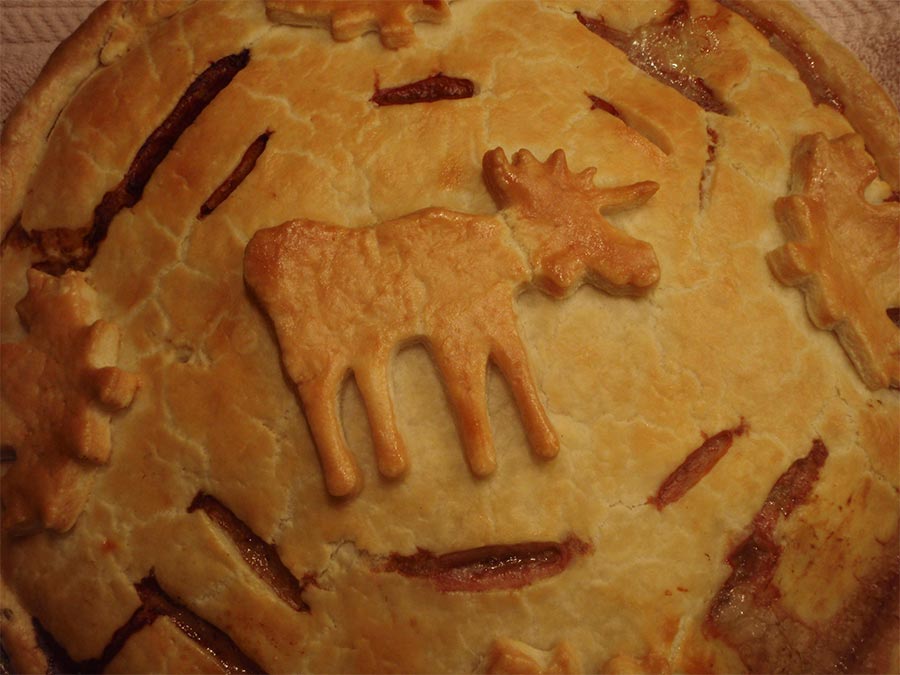 Tourtière
Here is the meat pie recipe:
Ingredients
1-1/2 cups (375 mL) cubed peeled potato
1 lb (.5 kg) lean ground moose
1 lb (.5 kg) lean ground pork
2 cups (500 mL) mushrooms, finely chopped
3/4 cup (175 mL) celery, finely chopped
3/4 cup (175 mL) chicken stock
2 onions, finely chopped
6 cloves garlic, minced
3/4 tsp (4 mL) salt
1/2 tsp (2 mL) pepper
1/2 tsp dry mustard
1/2 tsp (2 mL) each pepper, sage and thyme
1/4 tsp (1 mL) each ground cloves and cinnamon
Pastry for double pie crust and cut outs
1 egg yolk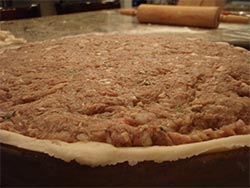 Directions
In saucepan of boiling salted water, cover and cook potato until tender, about 12 minutes. Drain and mash; set aside.
In a large bowl, mix together ground pork, ground moose, mushrooms, celery, stock, onions, garlic, salt, pepper, sage, thyme, cloves, cinnamon and potatoes. Set aside.
On lightly floured surface, roll out 1 of the pastry discs to scant 1/4-inch (5 mm) thickness. Fit into 9-inch (23 cm) pie plate. Spoon in filling. Roll out remaining pastry. Brush pie rim with water; cover with top pastry and press edge to seal. Trim and flute.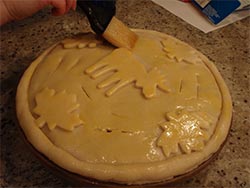 Roll out scraps; cut out desired shapes. (Make-ahead: Wrap tourtière and shapes separately; refrigerate for up to 24 hours. Or over wrap in heavy-duty foil and freeze for up to 2 weeks; thaw in refrigerator. Add 20 to 30 minutes to baking time, covering with foil after 45 minutes; remove foil for last 10 minutes.)
Mix egg yolk with 2 tsp (10 mL) water; brush three-quarters over top. Arrange cut-outs on top; brush with remaining egg wash. Cut steam vents in top.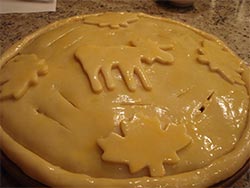 Bake in bottom third of 400°F (200°C) oven until hot and golden brown, about 75 minutes.
NOTES:
If you find that the crust of the meat pie recipe is browning too quickly, then cover loosely with tin foil for the remainder of cooking time.
Have a Comment? Do you have a favorite moose recipe or venison recipe you would like to share? Click here.
Want to learn how to hunt moose? Or are you wanting to increase your moose hunting skills?

Look no further!

Our moose hunting tips book is written with not just the novice in mind, there are tips in the book that even the most seasoned moose hunter will find of value.
The book includes 57 chapters, with more than 150 pages of information, jam packed with tips, techniques and discussions - The Ultimate Guide to Moose Hunting!
And don't forget to order one of our Fiberglass Moose Calls. In stock and ready to ship.

Top of the Meat Pie Recipe Page
Return to the Moose Recipes Page
Return to All About Moose Home Page