Moose Calf Just born in the previous two weeks??
by Jamoof
(Massachusetts, USA)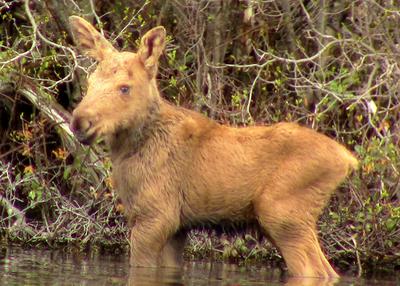 Little guy!!
Can someone put a guess on this one? My son, Walker and I saw mom and this little guy on Butt Lake (Ralph Bice L.)in Algonquin Provincial Park, Ontario, on May 27th of this year. Here's a decent enough video (shot from a rocking canoe, full-out zoom) of the two:


---
Thanks for sharing Jamoof. Yes your baby bull moose in question was likely just born in the past few weeks. I can't say that it was born in the previous "two weeks" but certainly it was born this spring.
Mom moose looks as though she had a rough winter dealing with ticks too. She has rubbed off a substantial amount of hair trying to rid herself of those pesky little blood suckers. She may not have survived winter if it had been very cold as she wouldn't had enough hair to insulate her.
She will be fine now, and so to will her little boy moose. Survival rate among calf moose is quite low, so hopefully the odds will be in favour of this little one.
Great pictures and video!
~ Mark - The Mooseman