Moose Liver & Onions
Some people like moose liver and some do not, If you eat and enjoy beef liver then liver from any ungulate will be delectable to you. Consider beef... farm raised, steroid injected, confined in tight quarters.
Wild game on the other hand... Is as organic as it gets!
Liver and onions is the one meal we look forward to every year at moose camp. It stands to reason that if we are eating liver and onions for dinner... our hunt has been successful.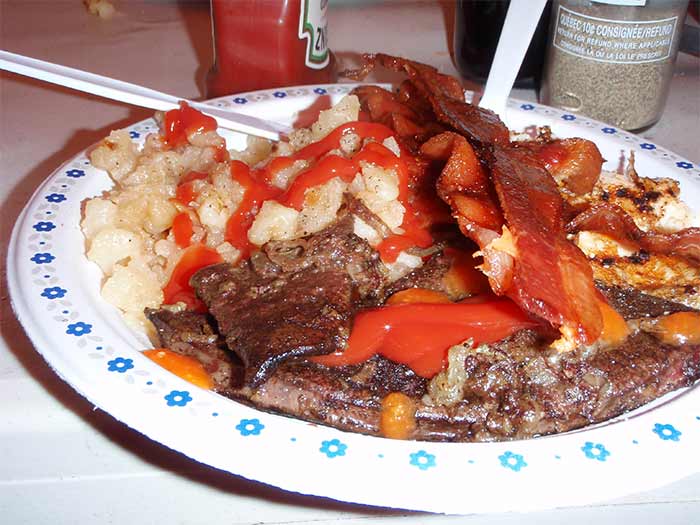 A serving of Moose Liver and Onions at Moose Camp
Below I share with you my ever changing recipe for liver. This is the first time I have ever documented it, and I do change it up from year to year. Minor things, like adding some wine or frying the liver right in the bacon fat... etc.
Ingredients – Feeds Four
Moose Liver – 8 slices about 1/4 inch (6mm) thick
1/2 pound bacon
medium onion – sliced into rings
6-8 cloves of garlic – minced
1/3 cup olive oil
1/3 cup butter
Once we bring our liver back to camp we always make sure we rinse it well in fresh cold water. It does not hurt it to soak it in water for a few hours, this helps to remove some more of the blood.
I have found it helpful to refrigerate the liver before slicing, it makes it a little firmer for cutting. BTW you need a very sharp knife to cut liver uniformly.
Directions
We usually cook our bacon in the oven these days to reduce the splatter on the stove top. Cover a cookie sheet with parchment paper and lay bacon strips on it. If you have the space, leave a small gap between each slice so they do not stick together. Place cookie sheet in a preheated oven set to 350 degrees Fahrenheit. Bacon done by this method takes about 25 minutes to cook.
While the bacon is cooking, slice your liver then in a fry pan heat the oil over medium heat and saute the onion until almost translucent, then add the minced garlic. Continue saute until onions are translucent.
Once the onions and garlic are ready melt the butter in the pan and add the liver slices. Cook 2-3 minutes on each side. DO NOT OVERCOOK... or you may as well eat the soles from your boots. I kind of judge the liver doneness by watching the juices ooze from the surface. I will sometimes flip the liver more than once but still being careful not to overcook. The last minute add a couple of bacon strips to let the bacon juice drip onto the liver.
Serve!
We serve the moose liver with fried eggs and hash browned potatoes... yummy! Personally I like to add a splash of hot sauce to liver.
Enjoy
---
Want to learn how to hunt moose? Or are you wanting to increase your moose hunting skills?

Look no further!

Our moose hunting tips book is written with not just the novice in mind, there are tips in the book that even the most seasoned moose hunter will find of value.
The book includes 57 chapters, with more than 150 pages of information, jam packed with tips, techniques and discussions - The Ultimate Guide to Moose Hunting!
And don't forget to order one of our Fiberglass Moose Calls. In stock and ready to ship.

Top of the Moose Liver and Onions
Return to the Moose Recipes Page
Return to All About Moose Home Page