Moose Ribeye Steak - with Wild Mushrooms and Sundried Tomatoes
A slow cooked moose ribeye steak to create a delicious and nutritious meal to serve your family. I prepared this meal at home, but you could easily through this together while camping too.
Impress your friends and serve them this!

This is a SLOW cook recipe. Allow at least 6-8 hours for the steaks to bake in your oven.
Serves 6

Ingredients for  Moose Ribeye Steak - with Wild Mushrooms and Sundried Tomatoes
Package of four Ribeye Steaks
One medium Onion (chopped)
1/3 Cup Red wine (for the dish, not you!)
5 Cloves Garlic (crushed)
1 Slice Bacon
12 Ounces of Organic Beef Broth (moose broth if you have it)
8 Ounces (227 g) of Sliced Organic Crimini Mushrooms
2 Tablespoons Butter
2 Tablespoons of Sundried Tomatoes (chopped)
1 tablespoon of Cornstarch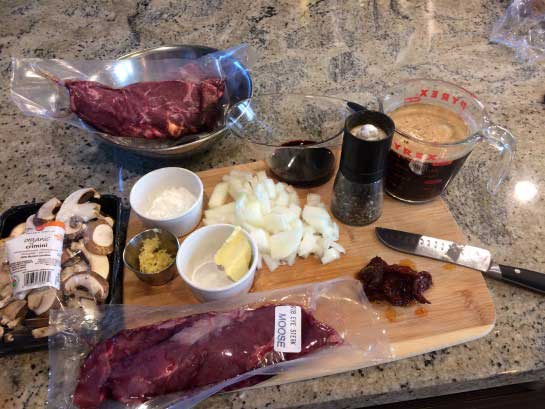 Directions
Preheat oven to 170 Degrees F.

Rub the pieces of ribeye with fresh ground pepper and place aside.

Fry bacon in a 12 inch cast iron skillet then put the bacon aside.
Add butter to bacon fat then sauté onions until softened. Once the onions are soft, add garlic and mushrooms and cook until the mushrooms begin to shrink.

At this point add in the sundried tomatoes and bacon (I pre-cut my bacon into small pieces). Mix well and simmer for 5 - 10 minutes.

Remove this mixture from the skillet (leave as much juice behind as you can) and put aside.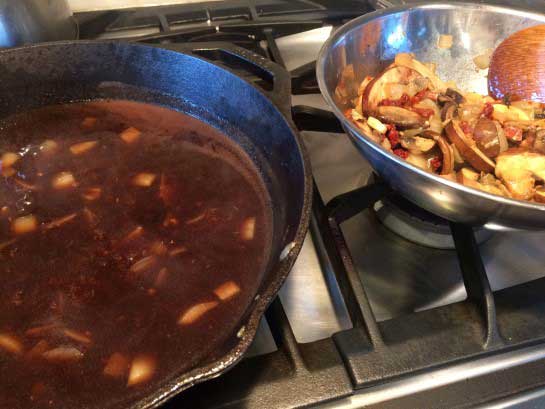 In the skillet, add the wine broth and cornstarch. Bring to a boil then simmer uncovered until the sauce has thickened nicely. You can reduce the sauce to a gravy consistency, this will make for a yummy sauce to simmer the steaks in.

Now add the mushroom onion mixture that you had placed to one side and continue to heat. Once the gravy and mushroom mixture is hot add your pieces of ribeye steak to the skillet.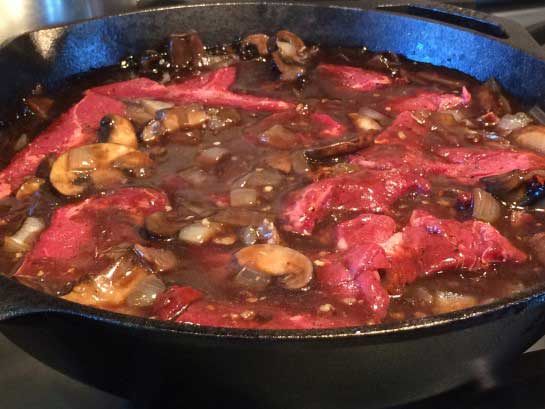 Cover your pan and place in the preheated oven (set to 170 deg. F.) Every few hours while the steaks are cooking, I turn the steaks in the pan. This will make sure that all sides of the steak are well coated with sauce during the cooking process.

Bake for 6-8 hours. If you want a thicker gravy and a darker richer looking dish, you can uncover the skillet for the last hour and increase your oven temperature to 250 Degrees F.
As you can see in the top photo, we added carrot slices. This was done when there was still about 1 1/2 hours left to cook.

Serve with baked (or mashed) potatoes, squash, carrots and salad.
In this recipe, you can easily substitute any type of venison, caribou or bison. You may even want to try with muskox if you happen to have some of that!

Want to learn how to hunt moose? Or are you wanting to increase your moose hunting skills?

Look no further!

Our moose hunting tips book is written with not just the novice in mind, there are tips in the book that even the most seasoned moose hunter will find of value.
The book includes 57 chapters, with more than 150 pages of information, jam packed with tips, techniques and discussions - The Ultimate Guide to Moose Hunting!
› Moose Ribeye Steak