Moose Satay is a scrumptious and easy to prepare appetizer!
Looking for a great starter for your party? Moose Satay Teriyaki style is one we have used several times and our guests love them. This is actually a two part recipe. First I'll give you my Teriyaki Marinade Recipe then I'll tell you how to make the Satays.
Moose meat is naturally low in fat, and because it comes from the wild it contains no harmful chemicals or hormones. Moose meat is so low in fat that you often have to add some to prevent it from being dry. When we process our Moose meat we do not add any fat to our mince, choosing instead to add fat when cooking as needed.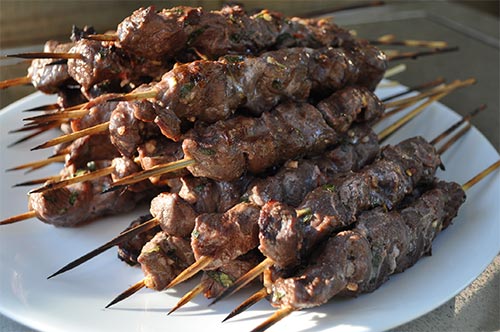 Moose Satay :
For the Teriyaki Marinade:
Ingredients:
4 Liters Kikkoman Soya Sauce
1 Lb. Garlic Cloves
1 Lb. Ginger Root
4 oz. Green Onion
26 oz. Demmara Sugar
9 oz. Cooking Sherry
2 Tsp. Olive Oil
This is a bulk recipe, I typically make one batch a year
Directions :
Coarse chop all ingredients.
Mix all ingredients in large pot. Bring to boil, simmer for 40 minutes. Caution: During the simmer process, keep a close eye on the pot....it will be prone to boil over if too high a heat is used!
Refrigerate overnight and strain next day.
Experiment with length of time to marinade foods. Probably around two hours for Moose Satay. The recipe can be used with other meats such as fish and chicken.
Keep Refrigerated
Note: This recipe is especially awesome with salmon, barbequed.
For the Satay :
Ingredients:
1-2 pound Sirloin Moose Roast – Remove butcher twine and trim all silver skin and large fat deposits. Steak, in a piece (or pieces) at least 3/4 inch thick; will also work very well
About 30 sharp, thin, 5-inch-long bamboo skewers, soaked in water for at least 30 minutes and drained
Directions:
Slice the Moose into thin strips cutting against the grain, not with it.
Thread the Moose strips onto the pre-soaked bamboo skewers, weaving the point of each skewer through the center of the beef every 1/4 inch to make sure it holds tight and remains secure while it cooks.
Place the Skewered meat strips into a flat pan and cover with the marinade, using just enough to cover(my wife likes to add 1/3 cup of honey to the marinade to thicken and sweeten it). An alternative is to place into a Ziplock bag so you can turn the bag over half way through the marinade time.
Marinade for about 2 hours.
The prepared Moose Satay Skewers can also be frozen for future use.

Barbeque Directions:
Preheat Barbeque set to Medium High
Cook on a well oiled grill for 2-5 minutes on each side. Do not overcook as this will dry out the meat and make it tough.
Serve on a white platter with chopped green onion as a garnish.
Enjoy
This recipe can also be used with any other Wild Game meats.
Want to learn how to hunt moose? Or are you wanting to increase your moose hunting skills?

Look no further!

Our moose hunting tips book is written with not just the novice in mind, there are tips in the book that even the most seasoned moose hunter will find of value.
The book includes 57 chapters, with more than 150 pages of information, jam packed with tips, techniques and discussions - The Ultimate Guide to Moose Hunting!
And don't forget to order one of our Fiberglass Moose Calls. In stock and ready to ship.

Return to All About Moose Home Page