My Biggest Elk
by Wayne
(Abbotsford BC)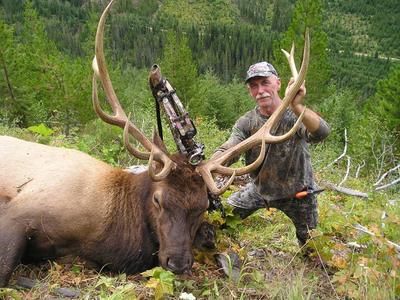 My Biggest Elk
I finally got some time to take some more pictures at home as we only got a couple on the mountain where he laid. It was very steep and he had already rolled down 100 yards before he came to rest against a huge downed snag, he was to heavy for Darrell and I to reposition for better pictures and we were afraid he might get away on us a roll another 200 yards, so took a couple and then got to work deboning.


It was one of my best years yet, for the number of animals I saw and called in, but it wasn't until the last evening, I had a Spike coming down the mountain, but he disappeared in the thick bush.
I continued calling and to my good luck got a answer from down the valley and could tell by the chuckle that this was a bigger elk. After 15 minutes I finally spotted him, not where I thought he would come in, but about 100 yards away and up on the mountain, there this big animal stood for the next 45 minutes.
Only chuckling to my cow calls and when I would entice him with a small bugle he would rake up the bush with his massive rack as I saw it from where I was, what every Elk hunter dreams of.
I realized this Elk was not going to come in and it was going to be dark soon, and then to my disbelief he was not in the picture any more, was he coming in or leaving, I gave him a small bugle, he chuckled right away and I new he was leaving!
So baled out of the blind and went after him cow calling, when I got through the thick bush on the bottom and the mountain side went UP and opened up with good shooting lanes I gave out a small bugle again behind me.
He charged down and into one of those shooting lanes and then the real work began, but after looking at him on the ground and up close, it didn't seam like work at all.
Thanks Darrell and Wayne
---
Wayne is the owner of Big Game Archery in Abbotsford BC. If you are in need of any archery equipment please give him a call at (604)859-2086. He'll take care of all your archery needs.
~ Mark