Tig Welder Cart Plans
Tig welder cart, a Mig welder cart or plasma cutter cart - any combination of these machines can fit on our cart plans. The design is really suited for two machines, but depending on the size of welders you have or are buying the cart can easily be modified to hold more or larger machines.
We built this cart to fit a Lincoln Tig 200 machine but the Miller Diversion™ 180 TIG Welder will fit just as well. There are many other small footprint machines that will fit on this cart too. Just check the dimensions to your machine and make sure it will fit, or modify the plans to suit the machine that is going on the welder cart.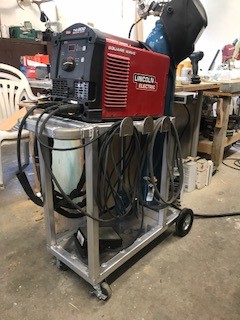 The rough dimensions of the cart are: 14" wide X 34" Length X 30" high, inclusive of wheels.

The Tig welding cart looks beefy, right? It is made from aluminum tubing in order to keep the weight down... and it looks cool!

I love welding aluminum, albeit I am still learning the intricacies of doing so. That said, if some of my welds don't look that great, now you know why. I am a machinist by trade and do some welding as part of my trade, but welding aluminum is new to me in the last year and a half or so.

Still need to add a bracket to hold the pedal.
All the stock aluminum should be available to you at your local Metal Supermarket or metal supplier. If you wish, you could also make your cart from steel tubing and sheeting.

If you have any questions or comments about the plans, do not hesitate to contact us using the return email from your purchase or us the contact us form.

Included are 11 drawings with exploded views, cut lists and dimensions of materials. You will have to purchase the castors, main wheels and chain to hold your tank from falling.

The Tig Welder Cart Plans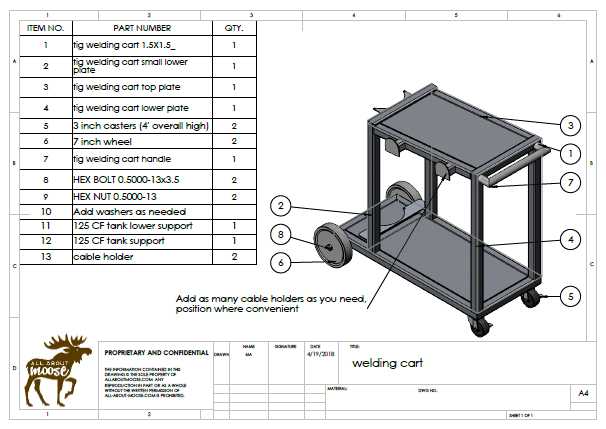 Drawing Sample
The plans do not include assembly or cutting instructions. We are assuming you have access to a chop saw or a band saw to cut your materials. The Bill of Materials does indicate angles and lengths to cut...
Be sure to ALWAYS measure twice and cut once. This is good practice especially using aluminum for your build as it is expensive.
›Tig Welder Cart Plans