Vancouver Island Blacktails
by Steve Kane
(Courtenay, BC, Canada)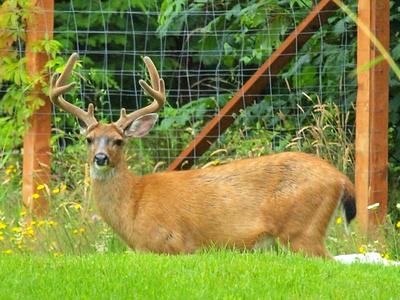 One of 2 Big Blacktails I'm After This Year

While taking a lunch break from work this summer, I (as always) went for a little tour with my camera hoping to capture some good pictures.

I pulled up into this little dead-end road and was turning around, when I saw this guy staring at me only yards away.

It was in a guys yard, in a rural subdivision just outside of town. He was magnificent to see and as you can see, an old Blacktail.

I didn't even think about hunting him this season, after asking the neighbour next door if I could hunt his 10 acres for him, and gave up on the idea.

Then a few days later while still working on the same house I was painting previously for a lady I have known a long time; the lady's daughter walks in, also whom I have known for years, and we start talking casually.

She knows I love hunting, and I asked her where she's living now. Low and behold, she is living right across the road from where I saw this buck, and when I told her about it, she said I was welcome to hunt him on her 5 acres.

Now, the hunt begins.

With the rut heating up here very soon, I am going to do my best to draw this buck over onto her property. :)

I have been a bow hunter for over 20 years now, and love the challenge .

I wish I had some Moose photos, but alas, we have no moose here on Vancouver Island.