Vietnamese Sate Recipe (Satay)
Here is another delicious moose recipe for entertaining. The Vietnamese sate recipe is delicious, I almost missed out on the served pictures because they disappeared so quickly.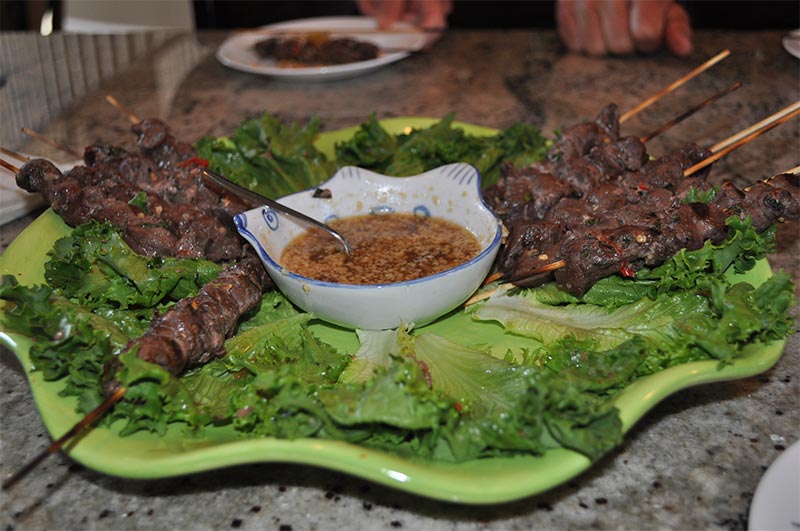 Moose Satay Vietnamese Style served on a platter. We served it up to our guests on a bed of leaf lettuce with the dipping sauce in the center.
They look and taste really good!

Marinade Ingredients: Serves 12
Package of 6 inch bamboo skewers
Sirloin Moose Roast – 3 pounds
Fish sauce – 3 tablespoons
Sesame Oil – 3 tablespoons
Red Chilli Peppers –3 sliced
Fresh Basil – 3 tablespoons chopped
Lime Juice – 3 tablespoons
Dipping Sauce
Lime Juice – 3 tablespoons
Pickled Onion – 3 sliced thinly
Garlic – 3 cloves chopped
Peanuts – 3 tablespoons chopped fine
Fish sauce- 1/2 cup

Vietnamese Style Satay made with moose, on the barbeque grill.

Here's How
Soak your skewers in water at least four hours so help prevent burning on the grill.
Remove the silver skin from the roast and cut into 1/4 inch slices about 4 inches long.
Mix the ingredients for the marinade, combine with your meat strips and soak for at least four hours. Be sure to refrigerate this mixture and turn often (every 30 minutes or so).
Make the dipping sauce by combining all the dipping sauce ingredients, mix well and place in a bowl for dipping. Refrigerate until ready to serve.
Once the moose has completed is marinade time thread the meat onto the skewers leaving a few inches for your guests to hold on to.
Barbeque or grill the skewers on a well-oiled grill set at medium to high heat. Be careful not to burn the exposed wood of the skewers.
Optionally you can baste the skewers while grilling with the marinade.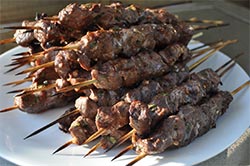 Moose Satay Vietnamese Style on a platter ready to serve 

---
Want to learn how to hunt moose? Or are you wanting to increase your moose hunting skills?

Look no further!

Our moose hunting tips book is written with not just the novice in mind, there are tips in the book that even the most seasoned moose hunter will find of value.
The book includes 57 chapters, with more than 150 pages of information, jam packed with tips, techniques and discussions - The Ultimate Guide to Moose Hunting!
And don't forget to order one of our Fiberglass Moose Calls. In stock and ready to ship.

Top of the Vietnamese Sate Recipe Page
Return to the Moose Recipes Page
Return to All About Moose Home Page