Hanging Wild Meat
Hanging and Skinning Wild Meat -
Day Six Moose Hunt 2011
We spend most of day six morning retrieving our moose from the forest and loading into the truck. (Day five of our 2011 moose hunt I had shot a nice bull moose with my archery equipment.)
Once back to camp, the job of skinning and hanging begins. Once hung from our wild game pole we saw the animal in half and wash it down with clean water. If the temperature outside allows we will hang our wild meat at camp until it is time to go home.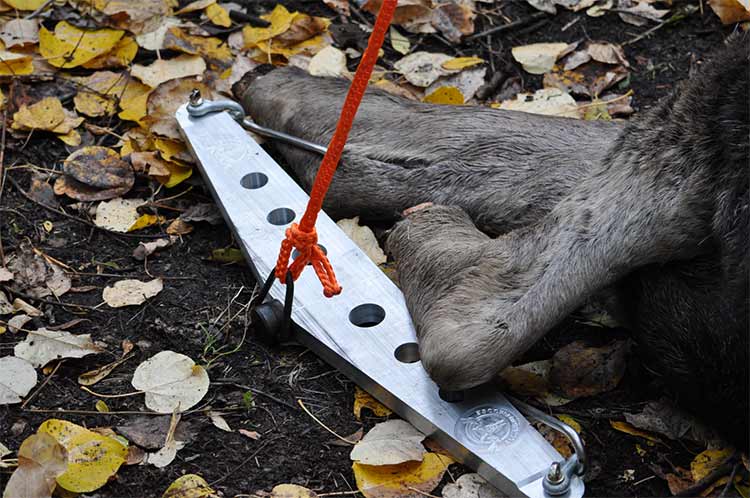 Getting ready to hang the moose from our gambrel. We are using Runlock rope for this operation.
Once your game is down it is vitally important you follow these important steps so that you and your family will want to eat the wild game.
Kill It
Gut It
Skin It
Cool It
There of course are going to be variances to the above, maybe a different order... the point being is to get the game cool as soon as you can in order to avoid spoilage.
I cannot stress enough the importance of caring for your meat properly. This year, although we thought we were doing everything right... we still encountered problems.
Here are the videos:getting the moose out of the bush. and loading into the truck.
On occasion when we are faced with warm weather we are forced to take the meat to town which, depending on the area we are hunting in may take from 1 to 3 hours drive each way. Once in town we will take the wild game meat to a butcher to hang in his walk-in cooler. Note: It is advisable to make previous arrangements with a butcher to receive your game. You would hate to be turned away and have nowhere to go to hang your meat.
As a practice we establish and maintain a relationship with the local butcher. We stop in for a visit and or send a gift card even when we do not use his services.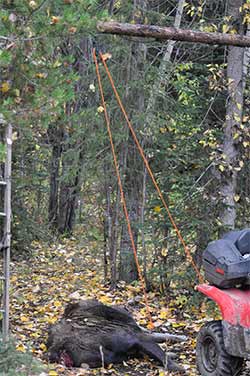 Skinning of the moose begins right as we hoist it into the air using Runlock rope.
If you are unsure about skinning a moose, we recorded a video a few years ago that shows the process. We are amateur videographers so do not expect a profession video.
We share all our wild meat recipes on this website... you will find Moose Recipes as well as Wild Game Recipes. If you have recipes that you would like to share too, there are links available on those pages to do so.
Once hung, we put our wild meat in our home made game bags and put a tarp over to keep the wind, sun, rain and snow off. It is advisable to use a blue coloured tarp as they are a few degrees cooler underneath than an orange coloured one.
With the job finished we head out looking for a moose for my hunting partner. Little did we know of the sour events that would happen tomorrow? When I say sour I refer to the souring of moose meat. Go to day seven to read about souring meat.
If you want to learn about how long a period of time you should hang moose in a meat cooler or if you need to hang meat at all, please visit Hang Moose Meat.

Want to learn how to hunt moose? Or are you wanting to increase your moose hunting skills?

Look no further!

Our moose hunting tips book is written with not just the novice in mind, there are tips in the book that even the most seasoned moose hunter will find of value.
The book includes 57 chapters, with more than 150 pages of information, jam packed with tips, techniques and discussions - The Ultimate Guide to Moose Hunting!
Top of the Hanging Wild Meat Page
Return to the Moose Hunt 2011 Page
Return to All About Moose Home Page