Wolf Encounter 2010
by Randy
(Engh)
Wolf Encounter
During our Northern B.C. moose hunt in October 2010, I was working my way into one of the huge natural meadows caused by the annual river flooding and receding in the area.
I heard an indistinct noise in the distant middle of the meadow, and at first thought it may have been a moose. I cow called and was responded to with a number of wolf howls.
I was by myself, but had a least a dozen rounds of 180 grain Barns TTSX handloaded cartridges with the 300 Win Mag, so after a minute of serious deliberation I thought I had enough firepower to continue the adventure. I began wolf howling and was answered back immediately by the wolves.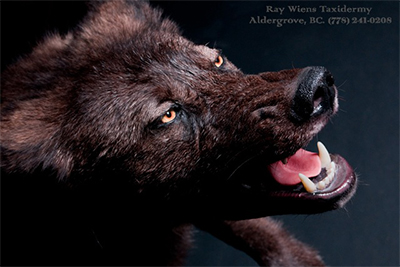 Photo courtesy of Ray Wiens Taxidermy
Believe me, this wolf encounter is enough to raise hairs on the back of the most seasoned hunter's neck! As I saw movement some three hundred yards away in the deep straw grass of the meadow I kept some trees and bushes between myself and them as I stalked my way closer.
At about 250 yards I could see the lead wolf, a real big grey and silver beauty running back and forth from the field toward the bushes. He looked agitated as if he was trying to decide if I was another wolf or a human, and if he should fight or run.
When he stopped moving he crouched down in the deep grass and I could just see his ears and the top of his head. I steadied my gun on a bush and fired off a shot at him. He started leaping for the bushes 80 yards away, and I took 2 more shots at him before he disappeared in the bush. What a surprise to then see this black beauty just standing still staring in my direction.
One shot at her and she dropped into the deep straw grass. I thought I had visually marked her spot, but it took half an hour working back and forth with a grid search and almost giving up before I almost stepped on her, dead where she was hit.
Now she guards my office and keeps my moose mount company, as well provides great memories of a successful and very exciting adventure. Both mounts were expertly done by Ray Wiens Taxidermy of Aldergrove, B.C.