Wolf Photos - What do You Think
about Wolves,
Better Dead or Alive?
Do you have great Wolf Photos? I bet there is an awesome story behind it too! Would you like to share them?
I pose the question "Is a wolf better dead than alive?" Should we allow hunting of wolves and what impact good or bad will harvesting or not have on our wildlife and livestock?
Wolves are predators, and vicious ones at that. Is it important to you to have a wilderness that is devoid of wolves, or should we merely watch them as they feed upon the forest and domestic animals?
It's easy to share here! No membership or email required unless you want to be notified!
Just fill out the form below and post your pictures and stories. Please... if you have wolf hunting or predatory type stories to go along with your pictures, do include them.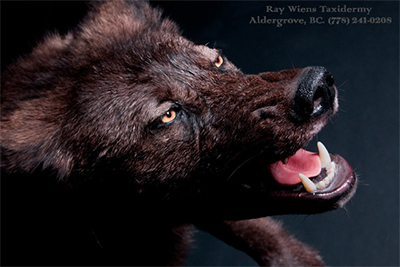 The black wolf seen here is melanistic, meaning that it has black pigments in the fur rather than the regular gray/grey that one usually sees. The extreme opposite of this would be the white/albino where there is an absence of pigment throughout.

There are many questions that can be asked about wolves and how their populations may or may not affect us... directly or in part; maybe you have some of the answers?
How important are harvesting (hunting and trapping), disease, and prey availability in limiting the population growth of wolves?
Should we or should we not hunt wolves?
What are wolf survival rates?
What role does pup survival, recruitment and dispersal play in wolf population?
It has now been proven that wolves killed a school teacher in Alaska: News Release December 2011 - Now confirmed, Candice Berner was indeed attacked and killed by wolves while out jogging. The full story is posted in: The Alaskan Dispatch
Is there a need to control the wolf population? Do you worry about your own safety when you venture out into wolf country?
It seems as I hear more and more frequently about wolf/human interactions.
Social media sites that have hunting groups in the northwest are alive with reports of hunters being stalked by wolves. No attacks but still, unnerving.
In my area of British Columbia where wolves have not been seen for many years is still wolf free. However, I have seen their sign nearby.
They may never come into the more populated areas, but they certainly will be around the perimeter.

Your Best Wolf Photos?
Share Them Here!
Do you have a Wolf photo that you would like to share? Did you manage to snap a shot of one in the wild? Not many people get the opportunity to see a wolf in its natural environment, did you? Maybe you just had a hair raising experience without getting a picture, tell us about it!
Read Other Wolf Stories
Click on the links below to see contributions from others. They were all written by visitors to this page...

Want to learn how to hunt moose? Or are you wanting to increase your moose hunting skills?

Look no further!

Our moose hunting tips book is written with not just the novice in mind, there are tips in the book that even the most seasoned moose hunter will find of value.
The book includes 57 chapters, with more than 150 pages of information, jam packed with tips, techniques and discussions - The Ultimate Guide to Moose Hunting!
And don't forget to order one of our Fiberglass Moose Calls. In stock and ready to ship.

Return to All About Moose Home Page