The Wyoming Knife
The Wyoming Knife – I use this knife and have done so for many years.

This gut-hook type knife makes every field dressing and skinning job that much easier. I have used a regular hunting knife to do the same thing... but if you like to have the-right-tool-for-the-job then this is the knife to have in your pack.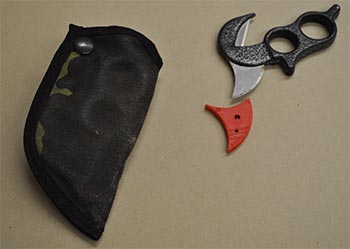 Light-weight and compact this knife will do the job. For gutting... never again worry about cutting into the stomach -- "what a smelly mess that can be"! Skinning is made easier, because the gut-hook-knife cuts the hide not the meat.

One of the other GREAT advantages of this knife is the disposable blade. Save your hunting/skinning knife for where it is needed... don't dull the blade by cutting hair. The Wyoming knife saves your knife for the important jobs.
These knives are razor sharp with replaceable surgical steel blades. The handles are made from a glass filled polymer which is super strong. This precision, surgical-quality instrument opens game like a zipper. It handles with the speed, safety and efficiency unapproachable by conventional straight-bladed knives. The one-piece, double-edge blade is Swedish surgical steel with excellent edge-holding ability. Includes blade cover and one extra blade. Made in USA. Overall length: 5-1/4". Available: Leather Case or Realtree Camo Cordura Nylon Case.
"I know you are just itching to buy one of these knives but before you go, don't forget to Opt-In to our Moose Alerts newsletter. That way when we post new and interesting pages, contests or recipes you will be the first to know."
Mark
Buy one of the Wyoming Knives Now... You won't be sorry if you buy one of these knives. I have personally used mine on over a dozen moose and probably just as many deer too! They stay sharp and replacement blades are not expensive.
You can see the knife in action while I skin out a moose.
Video Demonstration: I also show it in use on our how to field dress a moose video.
These tools are just a few of the recommended hunting supplies that we endorse. We have put a quick demonstration on our YouTube channel if you want to see one of these knives in action. Once you get one of these knives you will find out just how quickly they assist you in gutting and skinning of game animals. Never mind buying a knife that has a gut hook. Those are very difficult to sharpen... Therein lies the beauty of the Wyoming Knife and its changeable blades.
Return to the Hunter Gifts Page