Calling and Acting Like an Aggressive Bull Moose
Day Three – The Aggressive Bull Moose
I returned to the same place today. I had a cow moose answer me and she came pretty close too! At one point I could hear an animal pushing though some brush... maybe a bull coming for a closer look? I will never know.
The weather was changing, a front had moved in and it started to snow while I was there this morning. By the time I returned to camp for lunch everything was white. Personally I do not like it to snow when I am at moose camp. Especially here... three years prior to this they received 36 inches of snow in 24 hour, stranding many hunters in the forest for up to 10 days. The other reason I do not like new snow is, in my experience moose will not move much for a couple of days afterwards.
The night hunt was uneventful until just as I was leaving.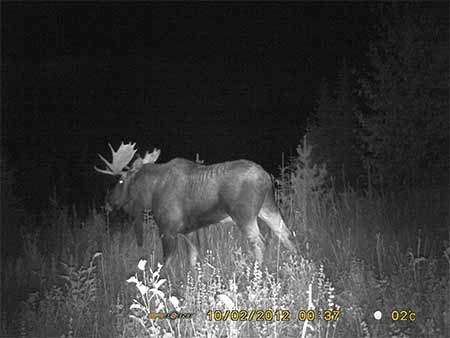 This moose picture was taken with my SpyPoint Trail Camera

There's a bull!
Getting close to dark, I packed up my gear and headed back to the ATV. As I was crossing a small cut block... there in the open, not one hundred yards from me was a nice bull moose walking right across my path… So much for my snow theory.
I was unseen but in the open. In the fading light I knew I would have to act fast. I scurried to a nearby bush to conceal myself; I gave a cow moose call. The bull ignoring me carried on his way. I called again, this time a little more aggressively. He stopped in his tracks and looked back towards me. I called once more and he started to walk, this time grunting as he went. He started to circle, circle back towards me... or so I thought. No, he moved towards the forest, soon to be swallowed up by the darkness. I had to act fast.
Make a bull react!
How can you make a bull moose turn around? Make him jealous by offering some competition. I grunted like an aggressive bull moose and took my birch bark horn and thrashed a tree.
The Bulls Reaction!
I received instant and an aggressive response. I have never heard a bull bellow like this guy... he was mad, really mad! As we bantered back and forth I could hear him tearing up the bush and ground around him. He was mad, but not mad enough to venture back into the opening. The sounds of the aggressive bull moose were echoing about in the fading daylight.
Eventually I had to let him walk as it became too dark. I did not want to be in the position of trying to stick an arrow into a charging moose in such low light.
Valuable Lessons
You can bet your last dollar I will be using aggressive methods such as these next season. I learned a lot from this one experience.
Very exciting stuff to be sure, even though I was unable to lure him back! If you have not tried calling moose or calling as an aggressive bull moose... you should! You will have an adrenalin rush like never before!
I bet you can guess where I was the next morning?
Want to learn how to hunt moose? Or are you wanting to increase your moose hunting skills?

Look no further!

Our moose hunting tips book is written with not just the novice in mind, there are tips in the book that even the most seasoned moose hunter will find of value.
The book includes 57 chapters, with more than 150 pages of information, jam packed with tips, techniques and discussions - The Ultimate Guide to Moose Hunting!
Top of the Aggressive Bull Moose
Return to the Moose Hunt 2011 Page
Return to All About Moose Home Page