Wolf Hunting In Canada
In recent years, wolf populations across the nation are on the rise. Will wolf hunting in Canada have an impact?
It is important to realize that when wolves are hunted by humans they will become wary and avoid human contact. Any species being hunted soon finds that in order to avoid danger they must take up the defensive. This is just a natural survival instinct.
In the past few decades it has become increasingly frowned upon to hunt wolves (and bears). Unfortunately with the population left uncontrolled, the numbers of wolf and human encounters is on the rise.
In many areas of Canada the wolf population has made significant impact on moose herds as well as on rancher's cattle. Hunters should take this increase in population as an opportunity to harvest some of these animals.
In British Columbia, the Government took action in 2011. In the largest portion of the province the wolf season has been changed to: No Bag Limit and No Closed Season.
Why do you think the Government made these changes? Do you believe that allowing more wolf hunting in Canada will make a difference to our deer, elk and moose herds? Would YOU feel safer if there were fewer wolves roaming the woods?
When hungry these animals will hunt and kill humans too! There are two cases in recent years the last which was reported during the winter of 2010 in Alaska. In this case the wolf pack hunted, killed and fed upon a young school teacher, Candice Berner out for an afternoon jog. The story was followed this December 2011 in which it has been shown conclusively that the wolves made this attack.
A good friend of mine Lloyd Hooper has begun to trap wolves on his trap line up near Smithers British Columbia. Lloyd and his brother Jack manage the family owned Babine Guide Outfitters, located at Smithers Landing on the shore of Babine Lake. I remember when he first began trapping wolves there were not so many around. Lloyd and Jack have gained some valuable experience, trapping and hunting wolves. Last year (the winter of 2010-11) wolf hunting in Canada was a good year...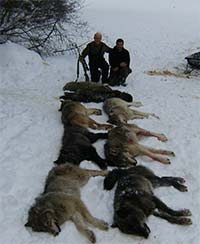 All the wolf photos on this page are courtesy of Babine Guide Outfitters/Tukii Lodge
Over the past 30 or so years, the eco-environmentalists have mounted very expensive campaigns, successfully swaying governments and the public alike into believing the wolf populations should be left to manage themselves. This is just not happening. Unfortunately hunters have been goaded into believing that the hunting of predators is taboo; that somehow we should avoid shooting or trapping them. I suppose the movements across the globe against the fur trade is partially to blame for this.
This story was recently submitted to All-About-Moose.com... This story, where had things been slightly different the outcome would not have been very pretty. As it is the hunter was unharmed... but I am sure he was shaken, read about the Wolf Attack Close Call!
The fact remains that predators need to be hunted for two very strong reasons:
To keep populations in check.
To maintain a sense of fear within these animals. When wolves are hunted they will avoid human contact more than when not hunted.
Want to learn how to hunt moose? Or are you wanting to increase your moose hunting skills?

Look no further!

Our moose hunting tips book is written with not just the novice in mind, there are tips in the book that even the most seasoned moose hunter will find of value.
The book includes 57 chapters, with more than 150 pages of information, jam packed with tips, techniques and discussions - The Ultimate Guide to Moose Hunting!
And don't forget to order one of our Fiberglass Moose Calls. In stock and ready to ship.

Top of the Wolf Hunting In Canada Page
Return to All About Moose Home Page
Like this Page?