The Moose Blog
The All About Moose Blog is a place for you, the reader. Signing up will keep you up-to-date on what is new.
New:
Hunting Tips
Moose Recipes
Moose Pictures
Moose Hunting Stories, etc.
No need to keep checking back to find out what's updated, we will let you know. Sign up for the RSS Feed to stay on top of whats up!
RSS stands for Really Simple Syndication, just click the little orange button on the sidebar.
The following pages have recently been added or updated on The Moose Blog.
Jan 21, 2018
Antler Art - Jewelry Made from Shed Antlers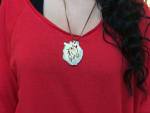 Antler Art Jewelry - Gorgeous medallions cut from shed antlers. Shop and explore our beautiful selection, you are sure to find one you like. We also do custom orders. Buy direct from the artist.
Continue reading "Antler Art - Jewelry Made from Shed Antlers"
Want to learn how to hunt moose? Or are you wanting to increase your moose hunting skills?

Look no further!

Our moose hunting tips book is written with not just the novice in mind, there are tips in the book that even the most seasoned moose hunter will find of value.
The book includes 57 chapters, with more than 150 pages of information, jam packed with tips, techniques and discussions - The Ultimate Guide to Moose Hunting!
Like this page?

---
---